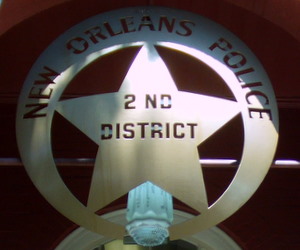 The Uptown-based Second District of the New Orleans Police Department is down yet another officer after a rookie already known for his strong work ethic was injured in a crash over the weekend, authorities said.
Officer Adle Haddad was responding to an emergency call Sunday evening when his police vehicle was "T-boned" on South Claiborne Avenue, Commander Paul Noel noted at the Second District's weekly meeting of ranking officers. Haddad's cruiser was struck in the door area and he had to be cut out of it by paramedics, Noel said.
Haddad's collarbone was broken in two places, and his entire shoulder area has to be immobilized in order to heal properly, Noel said. He has been released from the hospital, but will likely spend months at home recovering, Noel said.
Haddad was a member of the NOPD's most recent recruit class, but had already distinguished himself in the Second District has a hard worker, Noel said.
"He's a good guy," Noel said. "The first thing he told in the hospital was, he can't wait to get back to work already."
On the heels of the tragic death of another Second District officer, Rodney Thomas, no major fundraisers are planned for Haddad at the moment, Noel said. If the need arises, however, Noel said the Second District will make sure Haddad receives the support he needs.
"If he needs anything, we'll defintely do it for him," Noel said.