At a news conference near the crime scene, NOPD Superintendent Ronal Serpas declined to discuss any aspect of the motive in the April 1 shooting death of 18-year-old Joseph Massenburg, saying that information was crucial to the ongoing investigation. NOPD Homicide Detective Robert Barrere did say, however, that investigators are particularly interested in a white, four-door SUV that may have been near the scene.
"Locating that vehicle is pivotal in this investigation," Barrere said. "It would help us tremendously."
CrimeStoppers — reachable at 822-1111 — has solved hundreds of cases in New Orleans through its system of anonymously rewarding tipsters, Serpas said, but the Massenburg case has only resulted in three or four phone calls. In an attempt to seek justice for Massenburg's family and for all the other volunteers working in New Orleans, CrimeStoppers is raising the reward for information to $5,000.
"CrimeStoppers is here really to be the voice for the victim," said CrimeStoppers executive director Darlene Cusanza. "If you're out there and you have information, now's the time."
A silent candlelight vigil and march attended by hundreds of people Sunday night shows that the community is committed to stopping that violence, Serpas said.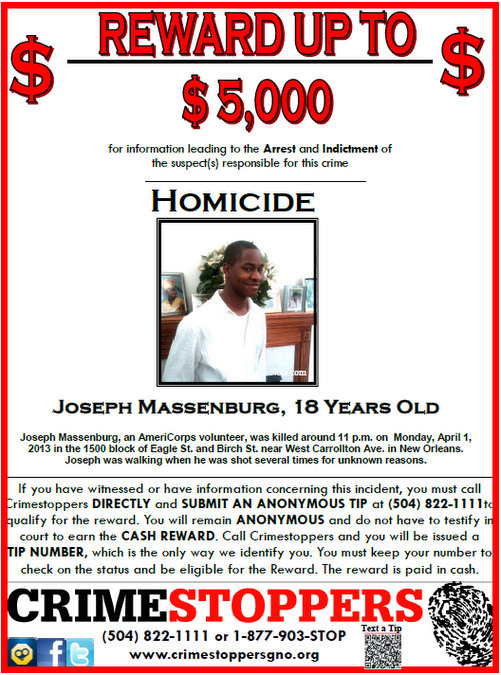 Homicide investigators are looking for information about a white SUV that may have been near Eagle and Birch streets in west Carrollton the night an AmeriCorps was shot to death there, and, amid an unusual lack of tips from the public, CrimeStoppers is doubling the reward for new information to $5,000.