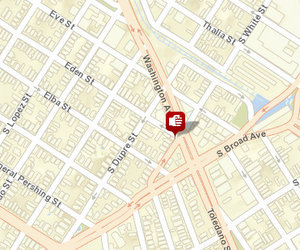 A 21-year-old was injured Monday evening in a shooting just off the busy intersection of Washington Avenue and Broad Street, authorities said, where neighborhood activists, city leaders and business owners have vowed to reduce crime.
The victim was standing in the doorway of a SUV parked in a residence in the 1700 block of South White Street around 5:45 p.m., when two men got out of a silver Mercedes and began firing at him, according to reports from NOPD. The victim was hit several times and taken to the hospital, where he was later listed in stable condition, police said.
Police are looking for a silver, four-door Mercedes C-Class sedan with a temporary Louisiana tag in the rear window in connection with the shooting. Anyone who sees the car should call 911, and anyone with other information about the shooting is urged to call CrimeStoppers at 822-1111.
After Kendall Williams was killed March 4 near the same intersection, residents and business owners decided in meetings with City Councilwoman LaToya Cantrell's office and NOPD leaders to focus on the violence in that area. More businesses will be installing a network of ProjectNOLA surveillance cameras, and residents are pursuing neighborhood watch training.