Around 10:15 a.m. Friday (April 5), the owner of the Broadway Bar in the 3000 block of Broadway was preparing to open the business when a man came in with a sawed-off shotgun and made him get down on the floor, NOPD Sgt. Ernie Crayton reported Wednesday at the weekly meeting of Second District leadership. The gunman then robbed the business of $1,000 in cash and left, Crayton said.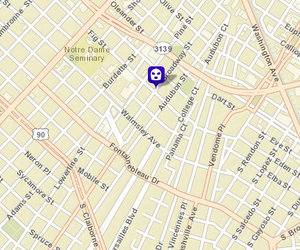 Detectives were able to obtain surveillance video that shows two men — the gunman and another man identified as 42-year-old Dennis Brown — driving up together, Crayton said. The gunmwan went into the business alone, then came back out a short time later and left in a separate car, while Brown drove off in the first car, Crayton said.
After police identified Brown from the video, they were quickly able to locate him nearby in the neighborhood, Crayton said. He was arrested on a charge of armed robbery and of violating his parole, but he is not cooperating with investigators, Crayton said.
Brown was previously charged with two counts of armed robbery in 1991, and sought a defense by insanity, but was declared fit for trial by the judge, according to court records. In the middle of his trial in June of 1992, Brown pleaded guilty and was sentenced to 30 years in prison, the records show, and he was also charged in an escape attempt that same year.
Brown was just released from Angola in November, Crayton said at Wednesday's meeting. The investigation into the gunman's identity continues.
After the Broadway Bar was robbed last weekend by a man wielding a sawed-off shotgun, investigators have arrested an alleged accomplice who was out of prison early on a 30-year sentence for a previous armed robbery charge, authorities said.