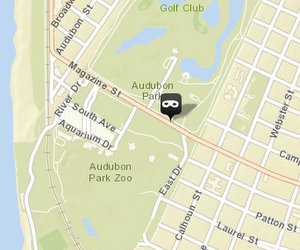 The baby alligators at Audubon Zoo appear to have avoided being recaptured by thieves recently, authorities say.
Around 11:30 p.m. Saturday, Feb. 23, zoo security officers came across a 12-year-old and a 14-year-old on the grounds, questioned them and then released them, NOPD Lt. Shaun Ferguson said at last week's meeting of the NOPD Second District leadership. Shortly afterward, the security officers were alerted to an alarm in the zoo gift shop, and found that it had been broken into and the holding area for baby alligators disturbed.
The water in the tank had been splashed around, but the alligators weren't harmed or missing, Ferguson said.
"We believe they attempted to steal a baby alligator but were unsuccessful," Ferguson said.
Ferguson said investigators would consider whether to charge the two kids for the break-in.
Zoo spokesman Frank Donze said that Audubon had no further information beyond that conveyed by police.
This is not the first attempt on the alligators. Last summer, after a container of eight baby alligators was dropped on an Irish Channel street corner, police charged 29-year-old Rodney Thornton with possession of stolen property. Thornton, who had previously stolen two iguanas from the zoo 10 years earlier, is now serving a 20-year sentence on a variety of robbery, gun-possession, burglary and theft charges, court records show.