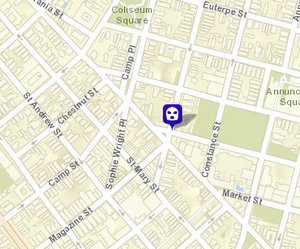 After the victim in a robbery on Magazine Street last week was able to help police find and identify his assailant, investigators were able to link him to the holdup of a GameStop store nearby in the Lower Garden District, authorities said.
Last week's robbery took place around 2 p.m. Wednesday, March 6, in the 1600 block of Magazine. The victim was standing outside Dat's Grocery when a young man walked up with his hand behind his back, implying that it was concealing a handgun, and demanded the victim give up his phone and cash, said Lt. Frank Young of the NOPD Sixth District investigations unit.
After the robbery, the victim told police that the robber looked familiar to him as someone who frequently hangs around Walmart. Investigators took that information and developed a suspect — a teenager too young for his name to be released by police — whom the victim then identified in a photo lineup, Young said.
Meanwhile, Sixth District investigators received a fingerprint analysis back from the State Police crime lab from
the Christmastime robbery of the GameStop store
next to Walmart, Young said. In that case, the masked gunman had flung several garbage bags across the counter at the clerk to fill up with cash, but a customer came in during the robbery and startled him, so he only grab one of the bags as he fled the store, Young said.
The fingerprints from the bags left behind ended up matching those of the teen from the Dat's Grocery robbery, Young said.
(Another person from the GameStop robbery who entered the store just before the gunman was originally thought to be an accomplice, but investigators have since determined that he was not involved, Young said.)
Young credited the Sixth District detectives for their persistence in finding the suspect in the Dat's case and collecting the fingerprints in the GameStop robbery, allowing both crimes to be solved.
Finally, police are now investigating the report of another robbery in the Lower Garden District, about a block from Dat's at the intersection of Sophie Wright Place and St. Mary. The victim told police that she was returning to her car there around 8 p.m. Monday when she was appraoached from behind by a man who grabbed her, pressed an object she believed to be a gun into her back, asked if she had a "fancy car" and demanded her wallet and keys, Young said.
She gave the man what she had, and he ran off before she could get a look at him, she told police. Young said her car was not taken.
Anyone with information should call the NOPD Sixth District at 658-6060 or CrimeStoppers at 822-1111.