The victim had been washing clothes at a friend's house in the 800 block of Milan and was loading her laundary into her vehicle around around 9:30 p.m. when a man walked by, Sgt. Daniel Scanlan recounted at the NOPD Sixth District's weekly midweek review Wednesday. The man then pivoted back toward her and fired a single shot that struck the woman in the neck, Scanlan said.
Investigators have not yet been able to identify an obvious motive for the shooting, said Sixth District Commander Bob Bardy. Investigators have been told that the man did not say anything before shooting — "but that doesn't rule out anything," such as a robbery gone wrong, Bardy said. Likewise, the woman does not appear to have known the man, suggesting that it was not an incidence of domestic violence.
The victim has been released from the hospital, and investigators will be speaking with her as soon as she is able, Bardy said. They have also since returned to the area looking for more witnesses or surveillance video, though they have yet to find any cameras nearby.
"There's not really much you can say at this point," Bardy said. "The best thing about it is she's out of the hospital."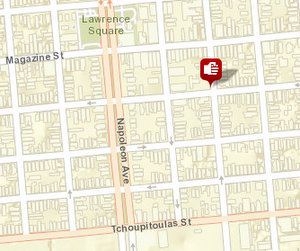 Several neighbors in the block used the word "random" to describe the shooting Monday night, and as they go back over what happened, that impression prevails. Several recounted hearing the woman scream, hearing the gunshot, and rushing outside to find lying her in the grass.
"What I've heard is he didn't say a word," said one neighbor who was home the night of the shooting. "He literally just raised the gun and shot her — he didn't try to take her purse or anything. As far as we know, it 's just a random attack."
The woman said it was chilling to read the next day a similar account of a woman shot in her home in Waggaman by a likewise silent man for no apparent reason — not to suggest that the incidents were connected, she said, but just the thought that people were being shot at their homes for no reason.
"The only motive seemed to be shooting a person," the woman said.
Police officials did not discuss any link to cases elsewhere at their district meeting on Wednesday.
Neighbors said they are taking a variety of steps to increase their own security in the wake of the shooting. One woman said she is walking her dog earlier in the evenings now, another said she was thinking of buying a gun, and the prospect of a neighborhood watch was also mentioned. But they also lamented having to take such measures in what is ordinarily a peaceful block.
"Generally speaking, this is a street where people spend a lot of time out on their porches," one neighbor said, but added that the cold weather, tragically, had everyone indoors on Monday night.
Police have not yet determined why an unknown man shot a 36-year-old woman in the neck on Milan Street on Monday evening in an attack neighbors now say may have been "random," but the victim is recovering and investigators are redoubling their own efforts, authorities said Wednesday.