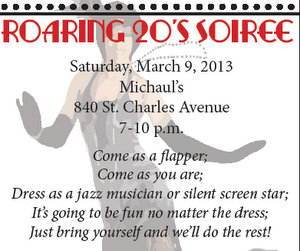 Audubon Charter School will hold its annual "Roaring '20s Soiree" fundraiser on Saturday evening with a costume contest, dance lessons, auctions, food, cocktails and music, school officials announced.
For details, see the following news release:
AUDUBON CHARTER SCHOOL "ROARING 20's SOIREÉ" TO BE HELD MARCH 9

Fundraiser will benefit school

 

WHAT: 
Audubon Charter School's "Roaring 20's Soiree" 2013

WHEN: 
Saturday, March 9, 2013, 7-10pm

WHERE:
Michaul's, 840 St. Charles Avenue, New Orleans, LA

WHY:         
Audubon Charter School's 2013 Soiree is the school's major annual fundraising event. Proceeds go towards the public school's academic programs and the children they serve. The "Roaring 20's Soiree" will feature D.J. Brett Bonin, auctioneer Shelly Ackel, 20's Costume and Dance contests, and Charleston dance lessons.

Attire is 20's (flappers, jazz musicians and silent screen stars are welcome!) or dressy casual.  The event will have silent and live auctions; major Auction Items include: a Valobra Jewelers 54" strand of pearls; Michalopoulos Gallery signed and numbered serigraph; a Myrtle Beach vacation; and a charter fishing trip with FryN Pan Fishing.

The fabulous cuisine includes food, beverages and specialty cocktails by Glazer's Distributors; Abita Brew Pub; Be Sweet Cupcakes; Charles Mendy; Christian Karcher; Daniel Bonnot; Drago's Seafood Restaurant; Keiah's Kreations; The Lakehouse; Michaul's; Oceana Grill; Pepperoni's Cafe; Tom King; and Specialty Italian Bistro.

All food, beverages and entertainment are included in the ticket price of $40 per person, (in advance), $50 at the door.  Tickets are available at available at www.auduboncharter.com

Event sponsors include:  Blue Cross Blue Shield of Louisiana; Michaul's; Bryan's United Air Conditioning; Empire Janitorial Sales and Services; Glazer's Distributors; The Greenhart Group, Materials Management Group, Inc.; James F. Williams Agency Allstate; Safeguard; The O'Connor Insurance Group, LLC; APC Construction; Crescent Commercial Construction; LaPorte Sehrt Romig Hand; and Pontchartrain Partners, LLC.

For more information on the event or to purchase tickets or sponsorships, contact Sophia Griffies at (504) 324-7100/ Sophia_Griffies@auduboncharter.com or visit www.auduboncharter.com

With its Montessori and French programs, Audubon Charter School, formerly Audubon Montessori School/LÉcole Franco-Américaine, has created an advanced learning environment driven by curricula designed to draw highly-motivated, high-achieving students.