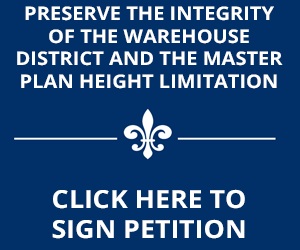 Two Warehouse District neighborhood associations along with other surrounding residents are speaking out against the proposed 16-story Tracage condo development at the edge of the Warehouse District. The Board of Zoning Adjustments will hear Tracage's application for several waivers on Monday, March 11 at 10 a.m. in the City Council Chambers.
Residents say that the Tracage condos, currently configured at 16 stories, exceeds the height limitations of the city's new master plan. Neighborhood residents commissioned Gulf Coast Resources to poll Warehouse District residents this week about the project. 71% of residents polled said they want the condos to meet the new master plan's height limits.
"We appreciate developers investing in New Orleans," said Salvador Figueroa, a Warehouse District property owner. "The Warehouse District is the jewel of New Orleans residential neighborhoods." Residential population in the Warehouse District has doubled since Hurricane Katrina. "We want to ensure that the remaining properties that could be developed are done so with appropriate size, scale and function," said Troy Dupis, president of the Warehouse District Neighborhood Association.
"We believe that residents of other neighborhoods also would not want oversized, out of scale projects in their area. We are seeking signatures of New Orleanians who agree that all major developments should meet the new master plan's height limitations and that developers sign a good neighbor agreement," said Warehouse District resident Joshua Rubenstein.
Residents are asked to sign the petition at www.warehousedistrictpreservation.com or to contact members of the City Council. Residents are also invited to attend the Board of Zoning Adjustments meeting Monday at 10 a.m. in the City Council Chambers.
[This advertiser's message is paid political advertising by Warehouse District Preservation, Inc.]