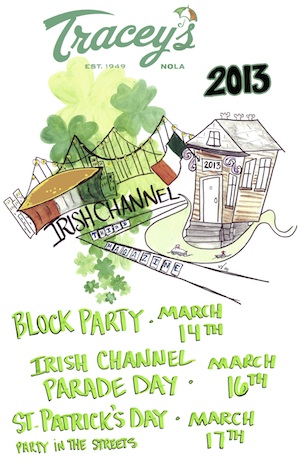 Be there as Tracey's Irish Channel Bar celebrates its annual St. Patrick's Day celebration all weekend long from Thursday, March 14th to Sunday, March 17th, 2013.  The Irish Channel Annual Block Party begins at 11:00am on Thursday.  Tracey's will serve up its world famous roast beef poor boys along with cabbage and corned beef and green beer!
Irish Events at Tracey's around St. Patrick's Day:
Thursday, March 14th Irish Channel Block Party 11:00am -8:00pm
Festivities include a Sailor Jerry Photo Booth and a DJ!
Saturday, March 16th Irish Channel Parade Day 11:00am -8:00pm
The Street Party will go along with it, DJ will be provided!
Sunday, March 17th is St Patrick's Day!
That means more partying in the streets all day long!
We will have a limited supply of St Patrick's Day t-shirts to sell.  So come get them early if you want one. We will also have:
Green Beer and Green Jell-o shots
Killbagen Irish Whiskey
Jameson Irish Whiskey
Crescent Crown Guiness
Sailor Jerry Arnold Palmers
Corned Beef and Cabbage & of course our world famous roast beef and other po-boys
In 1949 the original Irish settlers opened their doors at Tracey's to the community for St. Patrick's Day.  Ever since then, the New Orleans area has been drawn to the Irish Channel for this annual event with its friendly atmosphere, cold beer, and fantastic food.
Tracey's has been lucky to have re-captured that original old-fashioned feeling by maintaining its great staff and fantastic customers and friends. Please join us in celebrating this great Irish Heritage and Tradition.
For more information please go to http://www.traceysnola.com.