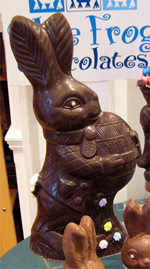 Easter is a huge chocolate and candy holiday. Everyone is ending their Lenten observance, and ready to enjoy Spring time. It's a holiday with "sweet appeal" and has been so in many cultures and for a long long time, perhaps dating back hundreds of years,  with the tradition of sweet Hot Cross Buns.
At Blue Frog Chocolates, we're ready to keep everyone from "being a basket case" at Easter. Make like a Bunny and Hop On In for Chocolate Bunnies, Eggs and Lambs, Jelly Bellys, old fashioned panorama sugar eggs, chocolate crosses, and way more. We'll be taking orders for chocolate dipped strawberries to serve over Easter weekend. To be sure of their availability, call in advance to order and plan to pick up your strawberries at the shop on Saturday before Easter.  (see http://bluefrogchocolates.com/pages/holidaygifts.html#straw)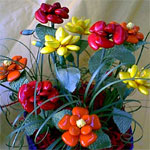 We also have Italian Candy Confetti Flowers – a most unusual item, imported exclusively by Blue Frog Chocolates from Sulmona Italy.  There, they are hand-made from hard candy coated chocolate, almond and licorice pieces (called confetti) and made into these magnificent flowers, as they have been for over a century. The flowers can be bought by the individual stem or in bouquets and arrangements which we make in the shop.  (Interested individuals can read more at http://bluefrogchocolates.com/pages/candyflowers.html and http://bluefrogchocolates.com/flowers.html)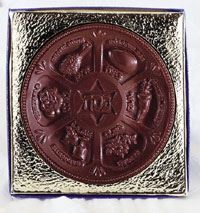 Finally, the Jewish holiday of Passover begins next week. No Passover seder is complete without Kosher-for-Passover goodies from Blue Frog Chocolates. From  Chocolate Seder plates, to Chocolate Locusts, to Matzah Crunch. Don't "PASS OVER" our chocolates for a Seder that "is different from all other" seders! The perfect afikomen gift!
Blue Frog Chocolates
5707 Magazine St 269-5707 Hours: M-F 10-6; Sat 10-5; Sun 12-5