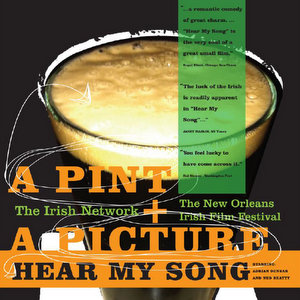 Movie-goers will have the chance to catch a rare Irish film while downing a few pints of beer from the Emerald Isle!
For tonight only, the historic Prytania Theatre will screen Hear My Song, a classic romantic comedy set in Ireland starring legends from the silver screen such as Ned Beatty and Adrian Dunbar.The pints start at 6:30pm and the picture begins at 7:30pm.

When the doors open, patrons will have their choice of Guinness or Smithwick's and a chance to raise their glasses to toast Saint Patrick a few days early. Admission is $10.50 for adults and $9.50 for seniors, with drinks included. This celebration is one of the many IN NOLA events that highlights Louisiana's first official Irish-American Heritage Month.

Hear My Song was called, "A romantic comedy of great charm" by Roger Ebert of the Chicago Sun-Times, while Hal Hinson in the Washington Post wrote, "You feel lucky to have come across it."

Irish Network Vice-President Aidan Gill added: "The week of St Patrick's Day is a great time to hold a pop-up cinematic event to remind people about the Irish Film Festival that will be held later in the year. And despite all the celebrations around our patron saint, we want to emphasis that IN-NOLA is 365, not just 3/17." Aidan is Owner of the Uptown-based shop Aidan Gill For Men.

For more information, visit www.irishnetworkneworleans.org.