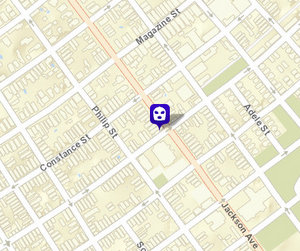 A woman was robbed on Laurel Street in the Irish Channel on her way home after the Bacchus parade last week, and police are now looking for the public's help turning up any additional information that may lead them to an arrest in the case, authorities said.
Around 9:30 p.m. Feb. 10, a woman walking in the 2200 block of Laurel Street was approached by a stranger who pointed a gun at her head and said, "Give me what you've got," said Lt. Frank Young of the NOPD Sixth District investigative unit. The woman told him she didn't have anything on her, then yelled out for help, and the man ran off in downtown direction on Laurel Street, Young said.
Responding officers stopped someone nearby who fit the description the victim gave — a slim, 5-foot-8 clean-shaven black man with a low haircut wearing a sweatshirt and blue jeans — but when they put his image in a photo lineup, the victim couldn't positively identify him, Young said. Police still consider him a strong suspect — he has a history of robbery arrests — but cannot charge him based on the evidence collected so far, Young said.
Now, Young said, police need new information — such as surveillance video from the area that night — in order to move forward with the case. Anyone with information is urged to call the NOPD Sixth District at 658-6060 or, to leave an anonymous tip that could be eligible for a cash reward, call CrimeStoppers at 822-1111.