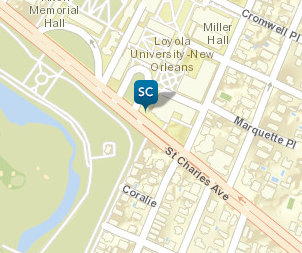 A woman was raped inside a Loyola University parking garage early Friday morning, and has identified her attacker to police, authorities said.
A Loyola student told authorities she was raped in the stairwell of the Freret Street parking garage around 4:12 a.m. Friday, according to an alert released on campus. She identified an acquaintance as a suspect, and the NOPD is handling the investigation, the university stated.
"This was not a random attack," wrote NOPD Officer Hilal Williams, a department spokeswoman, in an email late Monday morning. "The victim said she was consuming alcoholic beverages at a bar when she met the alleged suspect and began dancing with him during the night. The victim further stated that she allowed him to walk her home at which time she alleges that he sexually assaulted her while they were in the Loyola parking garage. Detectives have been in contact with the suspect and will be meeting with him at a scheduled time."
The investigation is ongoing, Williams concluded.
[Note: This article was first published at 9:43 a.m. Monday and updated most recently at 12:15 p.m. Monday as more information has become available.]