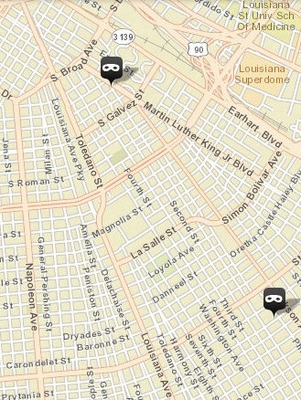 A Hoffman Triangle resident fought off a scam artist who turned violent last week, and a Garden District resident escaped from a burglar she found in her home — and who appears to have left a pair of underwear behind, police said.
The Garden District case was reported around 11:30 a.m. Feb. 11, Lundi Gras, in the 2300 block of Coliseum Street. A resident returned home, saw a stranger in her kitchen and asked what the man was doing, said Lt. Frank Young of the NOPD Sixth District investigative unit. The man took a step toward her, and the resident ran out of the house to a neighbor's to call police, Young said.
When police arrived, they cleared the house and the man was gone, Young said. They determined that some valuables had been taken, and they also found a pair of men's boxer briefs left in the home that the resident couldn't identify, Young said. No obvious explanation has emerged for the presence of the unfamiliar underwear, Young noted.
Two days later, Ash Wednesday, a resident of the 2400 block of South Tonti answered a knock at a door to see a man standing there, and she immediately asked if he was from a local nonprofit, said Sgt. Marc Hedgemon of the NOPD Sixth District property-crimes unit. The man replied that he was, and that he needed to inspect her house, Hedgemon said. The man walked through her house, got her phone number and left, then called from a pay phone to say he needed to come back and check a few more things out, Hedgemon said.
As he walked through the house again, raising and lowering the blinds, the woman became frustrated with his conduct and ordered him out, Hedgemon said. He then attacked her, and she fought back, hitting him with a clock, and he then slapped her across the room, Hedgemon said. She managed to lock herself in a bedroom, tried to call 911 but couldn't get through, and then called her daughter directly, a police officer elsewhere in the city, who then sent officers to her aid, Hedgemon said.
By the time police arrived, however, the man had gone, apparently making off with about $20 of her cash as well, Hedgemon said. Police have several active leads as they investigate, he noted.
Anyone with information about either of these incidents is urged to call the NOPD Sixth District at 658-6060 or CrimeStoppers at 822-1111 to leave an anonymous tip that could be eligible for a cash reward.