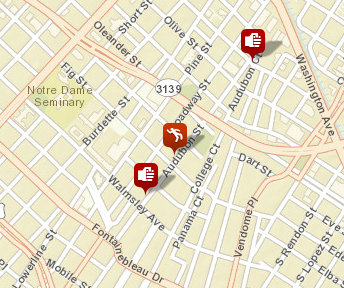 Detectives have not been able to ascertain any direct connection among three shootings — injuring four people and killing one — around a small area of Audubon Street in the Fontainebleau and Gert Town this month, but police are increasing patrols there until the violence subsides, authorities said.
The first case was reported around 3 a.m. Feb. 11, when a 26-year-old man was dragged inside a home in the 2800 block of Audubon and shot several times. Police stopped 29-year-old Willis L. Turner near the scene that night, but Turner portrayed himself as a witness to the incident, and had to be released, said Lt. Shaun Ferguson of the NOPD Second District investigative unit.
When the victim emerged from critical condition, he was able to identify Willis as the shooter, and Willis was booked with attempted second-degree murder Feb. 18, Ferguson said. The motive appears to have been a drug deal gone bad, Ferguson said.
In the second case, two people were shot in the 3500 block of Audubon Court (on the opposite side of Earhart) on Friday (Feb. 22). In that case, a man and woman got out of a car around 9 p.m. to talk to two men already there, and the men they were going to see opened fire on them, said Sgt. Ernie Crayton of the NOPD Second District persons-crimes unit. The man was hit several times, and the woman was hit in the leg, Crayton said.
Investigators found 15 shell casings on the ground, as well as a medicine bottle in one of the victim's names with marijuana inside, Crayton said. The male victim is well known to Second District investigators, but he's not known to venture over to the river side of Earhart, where the Feb. 11 shooting took place, Crayton said.
On Monday evening, gunfire rang out again, when 46-year-old Steven Anderson was shot to death in the 3000 block of Audubon Street. In that case, a 23-year-old man answered a knock at the door and was fired upon by the people outside, hitting him in the thigh, Crayton said. Anderson, who was inside, was shot several times to the face, indicating that the shooters were targeting him personally, Crayton said.
"He was definitely the intended target," Ferguson said.
Unlike the Audubon Court case, however, Anderson was not known to Second District police, Ferguson said.
"As of this time, we do believe the three incidents are all isolated incidents," Fergson said.
With no specific cause to target, Ferguson said the Second District's narcotics detectives and task-force officers will focus on the Audubon Street area in hopes of making additional arrests to stem the shootings.