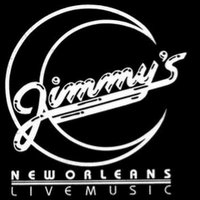 The owner of Jimmy's Music Club may be taking his fight to reopen his renowned club straight to City Hall, but a group of Carrollton neighborhood residents told him Thursday night that they aren't his problem.
In fact, the Carrollton-Riverbend Neighborhood Association said, they'd like to sit down and try to figure out a way to support him.
Caught by the city's ban on new alcohol establishments opening in the Carrollton area without explicit permission from the City Council, Jimmy Anselmo is seeking to appeal the denial of his application for a liquor license — in effect, asking the Alcohol Beverage Control board to overrule the City Council. Many of Anselmo's supporters who showed up at the Thursday-night meeting of the Carrollton-Riverbend Neighborhood Association said the group should join Anselmo in demanding that ban be rescinded.
Neighborhood resident and Jimmy's supporter Drew Ward said the ban allows the association to force prospective businesses into agreements that put them at a competitive disadvantage.
"Nobody should be bullied into something," Ward said.
Association members, however, said their role in the discussion has been misconstrued. They never requested the moratorium, they said, but while it has been in place they have used it to work with a number of businesses — such as Oak Wine Bar, Cowbell, Tru Burger and the upcoming Mellow Mushroom — toward reasonable limits on noise, trash and hours.
"Just because somebody says they want to discuss something does not mean they want to stop you from opening your business," said outgoing association president Ann Wolfe.
The association members — and even some neighbors there to support Jimmy's reopening — said they had their own concern, that the bar wouldn't become a repeat of the Frat House. They described horror stories of obnoxious Frat House patrons vandalizing homes similar to those recently described by Councilwoman Susan Guidry, and said they were wary because Anselmo owned the property while that was going on.
The new operators, Ted Cuccia and Bradley Vega, replied that they felt their project was suffering from unfair preconceptions perhaps in a similar way that CRNA feels. Every time they turn around, they have to answer for that bar, they said, when what they plan will be a 21-and-up music venue that caters to an older, more responsible crowd.
"It's not the Frat House anymore," Anselmo said.
Ultimately, CRNA members said, even if they were to oppose the moratorium, other neighborhood groups in the Carrollton area support it much more strongly and would fight to keep it in place. Meanwhile, they asked, won't the legal fight against the moratorium be more time-consuming and costly than just working within it?
Anselmo and the new proprietors replied that time was their greatest enemy, that they had first applied for their liquor license last summer, had already waited six months for it to be denied, and now understand that seeking a moratorium waiver will take another six months.
To that, the association members promised to act. First, they said, they will inquire of Councilwoman Susan Guidry's office if the process can be expedited. Second, both groups agreed that more input from immediate neighbors was needed, and promised to hold a special meeting on the topic.
Finally, the association said they'll work swiftly to draft a good-neighbor agreement they could support, getting it finalized in 30 days so that the association is not the roadblock.
To read live coverage of the meeting, see below.