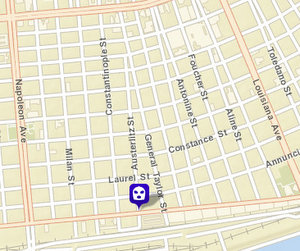 A woman reported being robbed at gunpoint on the way to her home on Tchoupitoulas Street last weekend, but police are being stymied in their investigation by the fact that the woman is so upset by the experience she is moving out of town, authorities said.
The woman had been out at bars in the French Quarter on Friday, boarded a city bus to get to her Uptown home, and fell asleep during the ride, said Detective Tim Sison of the NOPD Sixth District persons-crimes unit. When she woke, she got off the bus and began walking to her home on Tchoupitoulas, but as she reached Austerlitz Street around 10 p.m., a man came up behind her and placed what she believed to be a gun to the back of her neck and demanded her purse, Sison said.
The woman threw the bag behind her and dropped to the ground, curling into a ball with her hands over her head, Sison said. She heard her bag being rummaged through, and then the sound of the man leaving, and saw that only her cash had been taken from the bag, Sison said. She never saw him to get a description, Sison noted.
When Sison tried to ask her followup questions, she said she wasn't interested in discussing the incident any further, because she is moving back home to Arkansas, Sison said. She asked to withdraw her robbery report, and Sison agreed to send her the paperwork to do so, he said.
"She doesn't want anything to do with it," Sison said at Sixth District's weekly meeting to assess major incidents and crime trends.
That area of Tchoupitoulas has some businesses that may have video of the incident, Sison said, and so investigators plan to try and find footage of the incident.
Other incidents of note in Wednesday's discussion included:
– In an armed robbery reported Monday afternoon on Simon Bolivar Street in Central City, Sison said police obtained the following description of the suspect: the gunman was a black male in his early 20s, with a dark skin tone and short hair, wearing a dark hooded sweatshirt and with noticable cracks in his teeth. Investigators are working to determine if anyone fitting that description has been seen regularly in the area.
– Investigators have identified a suspect in a shooting that took place Tuesday afternoon at Delachaise and South Liberty, Sison said, but did not name him during Wednesday's meeting. Several of the same individuals in Tuesday's shooting are also believed to be involved in the Dec. 17 slaying of Devonta Thomas a block away on LaSalle Street, said Lt. Frank Young, suggesting that the violence is apparently part of yet another feud simmering along the Louisiana Avenue corridor.