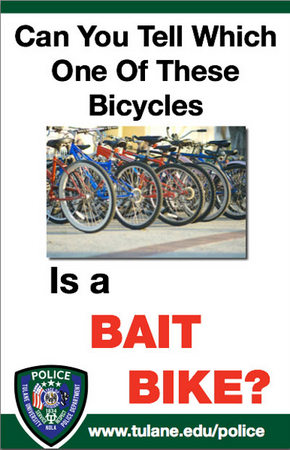 Tulane Police has launched a new program intended to lower the number of bicycles stolen on campus by telling would-be thieves up front that they may be part of a sting operation.
The department has installed GPS tracking on "bait bikes" locked at racks around campus that is activated when the bikes are moved. Next to the racks, the university has posted signs warning criminals that one of the bikes may be bugged — hopefully deterring them from stealing any of them, according to a letter to the university community from TUPD Superintendent Jon Barnwell:
We are starting the New Year with a new program designed to reduce the number of bicycle thefts on our campus. This week, you will notice signage asking whether you can spot the "bait bike" on racks on the uptown and downtown campuses.

TUPD has installed a GPS tracking device on a select number of bicycles that we will lock at racks across our campuses. The tracking device is activated once the bike is stolen or taken more than a few feet away from the rack. The monitored bikes will be locked and parked in public racks along with other bikes on campus.

Highly visible signs will put potential thieves on notice that certain bicycles have been "baited" and those caught stealing them will be prosecuted to the fullest extent of the law.

I have used the program elsewhere with considerable success. TUPD will supply stickers to Tulane students, faculty and staff to display on their own bikes to warn thieves "this could be a bait bike."

This is yet another program that we have instituted to secure our campuses. In addition, you may have seen the emergency information that we have distributed around campus. We wanted to remind everyone of this important yet basic information as we begin the New Year.

I can't emphasize enough that safety begins with each individual. With Mardi Gras and the Super Bowl on the horizon, it is important that everyone be mindful of their surroundings and always report suspicious activity. If you are going out at night in a group, be sure to have transportation alternatives in the event you become separated. Never walk home alone. Take advantage of Safe Ride 504-314-SAFE (7233) if you are on its route.