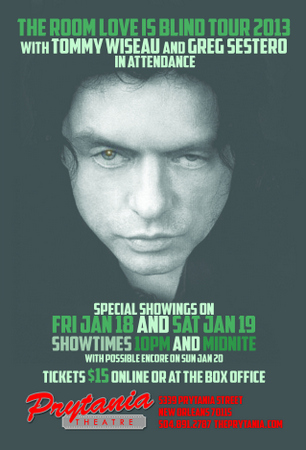 Cult classic "The Room" Live with writer/director Tommy Wiseau and actor Greg Sestero will run back-to-back shows at Prytania Theatre both Friday (Jan. 18) and Saturday (Jan. 19).
Please see the following press release for more information:
What: Love is Blind Tour 2013 "The Room" Live with Tommy Wiseau and Greg Sestero

Where: Prytania Theatre, 5339 Prytania St, NEW ORLEANS, LA 70115

When: Jan 18 & 19, 2013

Time: 10:00 and midnite

Price: $15.00

Tickets on Sale NOW!

Tommy Wiseau's "Masterpiece" The Room has been hailed as the biggest cult film since Rocky Horror. Soo bad it's good, it's drawn a cult following in the US with viewers acting out skits, storming out in disgust, and throwing plastic cutlery during screenings. However unlike other cult films such as Rocky Horror, or the Big Lebowski, these fans are drawn to how bad they regard the film to be! A cinematic train wreck you won't want to miss! Starring the truly unique writer/director Tommy Wiseau as a successful banker with a great job, solid friends, and even a girlfriend he hopes will be "The One." But wait! Cruel fate is lurking just around the corner, and before you know it, drugs, deception, soft-core sex and a cheating heart slowly begin to unravel Johnny's life! With that being said…The Prytania Theatre will welcome Tommy Wiseau and Greg Sestero on Jan. 18 & 19, 2013.