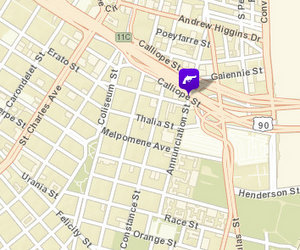 After a driver fled the scene of in a DWI crash at the edge of the Lower Garden District, police found an Uzi submachine gun in the car he left behind, police said.
The crash happened around 5 a.m. Saturday at the intersection of Calliope and Annunciation, where one vehicle driven by a drunken driver ran into another vehicle driven by 25-year-old Ian Gammage, reported Sgt. James Young of the NOPD Sixth District at Wednesday's meeting of police supervisors. Both Gammage and the driver of the car that hit him refused medical attention, and while police were investigating the driver of the car that hit Gammage, Gammage slipped away on foot, Young said.
Officers then began to examine Gammage's vehicle, and inside they found a 9-mm Uzi submachine gun with a flash-suppressor device on the barrel, all wrapped up in a T-shirt, Young said. The gun had a 32-round magazine but only 20 rounds inside, raising speculation that it may have been used recently, Young said. The gun's serial number shows it to be an original, 1980s-era weapon manufactured in Israel, and it was never reported stolen, Young said.
The driver who hit Gammage's vehicle told police that his own light was green and that Gammage had sped through the red light, so Gammage was found to be at fault in the accident, Young said, though the other driver was still charged with driving while intoxicated. Gammage had given his name to police before escaping, so officers obtained a warrant for his arrest on charges of possession of a firearm by a convicted felon (which carries a minimum 10-year sentence), hit-and-run driving for leaving the crash scene, two traffic charges and a probation violation, Young said.
Gammage was involved in an unrelated disturbance a few days later on Bourbon Street, and when the investigating officers ran his name, the warrant showed up and he was arrested, Young said.