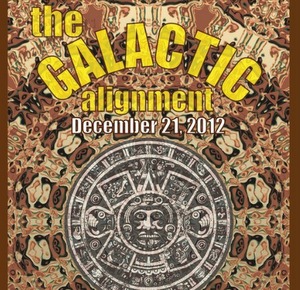 The Maple Leaf Bar will mark the end of the current era of the Mayan calendar Friday (Dec. 21) with a block party featuring the Galactic Alignment Band and New Orleans FUNK Allstars.
For more information see the following press release:
The Galactic Alignment is less than 10 days away!
The impending Mayan Apocalypse has incited mass hysteria worldwide, especially in France, Russia and China– but there is no need to panic. On December 21st, 2012, the date of the Winter Solstice, the Mayan calendar cycle, 13th b'ak'tun, will come to an end. With it, Mayan experts from the Tulum Institute predict the beginning of an Era of Harmony. On that date, there will be a unique alignment of the cosmos which occurs only once every 26,000 years. The date will mark a monumental transition and an opportunity to realign priorities based on the principles of love, gratitude, care and respect for both humanity and our environment.

The Maple Leaf Bar will host a massive party to commemorate the occasion. The Galactic Alignment will begin at 7:30PM in front of the Maple Leaf Bar. The street will be closed for a free block party complete with food vendors, music and far out characters to enhance the revelry. There will also be a ceremony from the Maple Leaf balcony featuring the Avatar of Bolon Yok'te K'uh, who will bless the New Age. At 10pm the Galactic Alignment party will move inside to the Maple Leaf Bar. The Galactic Alignment Band will feature New Orleans FUNK Allstars. The internationally renowned musicians will perform under their Mayan Avatar names: S'Moore on drums, Forrest Raines on guitar, BellMan on sax & harmonica, Mercury O'Rob on bass, and Vougue L. Ritch on keys. The band will also feature a stellar special guests. Come welcome the dawn of a new era with the funkiest band in the galaxy.

Advance tickets and more information are available at http://galactic-alignment.eventbrite.com. Advance ticket sales will end Monday, December 17th. Tickets include an all night dance party, traditional Mayan delicacies, and an initiation to the Rebirth marked by Bolon Yokte K'uh's descent from above. Don't miss this once in a lifetime event!