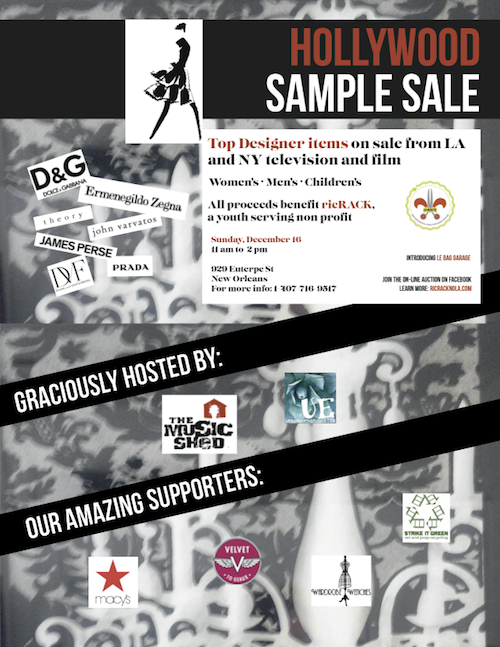 Where else can you get Zara, TopShop, UniQlo for as little as $10…or Rag and Bone, Vince, and Theory for $30…Nike hi tops for $20….high end designer clothing at super discount prices.  Everything is priced to sell…And just in time for Christmas!!
The first ever Hollywood Sample Sale.  Clothing bought or worn for feature films and tv in Louisiana and NYC now available to you.  Join us this Sunday, December 16, from 11 am to 2pm at the Urban Earth Studios, 929 Euterpe St….across from the Saulet Apts.
Introducing for the first time, Le Bag Garage, buy one of our shopping bags for $25 and fill it up…only at Le Bag Garage. Tasty hot beverages served up by Velvet to Geaux!!
If you're a bargain hunter, you don't want to miss this!!
All the proceeds from sales will go to ricRACK, a local youth serving non-profit. For more info about ricRACK, visit www.ricracknola.com or e-mail ricracknola@gmail.com. Like ricRACK on Facebook to get a peek at our online auction.