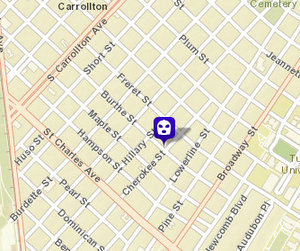 Police hope that surveillance video from a nearby business will lead to arrests in the violent robbery of a college student earlier this week, investigators said Wednesday at their weekly internal leadership meeting.
The 22-year-old victim was robbed at gunpoint Monday night on the 900 block of Cherokee Street. Three men approached the victim on his bicycle, hit him with a gun, knocked him to the street and took several electronic items, police said at the time.
After the robbery, police tried tracking the stolen laptop and cell phone to no avail, said Sgt. Ernest Crayton of the NOPD Second District persons-crimes unit. The owner of a nearby business, however, turned over video this week that may give police a lead in the case, Crayton said.
"He has surveillance footage of three guys in the area a few nights earlier," said Crayton.
While the victim was unable to identify his attackers, police are still treating the surveillance video as a possible lead, Crayton said.
The suspects were described as three young black males, all slim and of average height, but one was wearing an orange hooded sweatshirt, one wearing a yellow hoodie, and one in a white T-shirt. Anyone with information should call the Second District investigators at 658-6020.