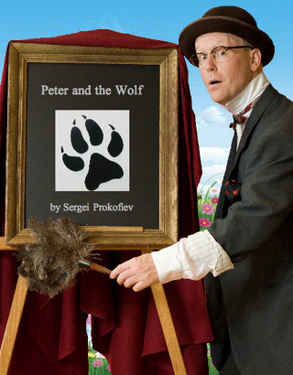 Tulane University will host a free family concert of "Peter and the Wolf" next week.
For more information see the following press release from Tulane University:
FREE FAMILY CONCERT FEATURING AUDIENCE FAVORITE "PETER AND THE WOLF"
Tulane University Orchestra Brings Family Favorite to New Orleans
in a Free Concert Featuring Special Guests

Event: Free Family Concert of "Peter and the Wolf"
When: Thursday, December 6, 7:30pm
Where: Dixon Hall, Tulane University, uptown campus

Tulane University and the Newcomb Music Department will host an evening of music to inspire the imaginations of all ages. Music of Bizet, Liszt, and Prokofiev will fill Dixon Hall in a first ever, free family concert event featuring the Tulane University Orchestra, under the direction of Maestro Maxm Samarov, with special guest actor Michael Boudewyns performing Peter and the Wolf. The concert will also include special appearances by pianist and Tulane faculty James Kelly, and The Youth Orchestra of the Lower Ninth Ward.

Actor Michael Boudewyns is a frequent guest artist with major orchestras around the country including the Philadelphia Orchestra, the National Symphony as well as the symphonies of Milwaukee, Charlotte, Des Moines, Princeton, Annapolis, Lincoln, New Haven, Harrisburg, Richmond, Texarkana, Newark, and St. Louis.

"It's more than just narration," says Mr. Boudewyns whose vaudeville-inspired performance of Peter and the Wolf has been hailed by the Philadelphia Inquirer as "immensely likeable, using simplicity as a form of genius." Says Boudewyns, "This playful presentation is designed to engage the imagination. Audiences of all ages love to see the characters of Peter and the Wolf come to life in a completely unexpected and surprising way that still keeps Prokofiev's music in the spotlight."

"We are very pleased to be able to offer this concert free to the community," says Tulane University conductor, Maestro Maxim Samarov. "It is a unique concert in that it not only features music for young audiences, but also showcases the talent of young musicians from the Youth Orchestra of the Lower 9th Ward who the Tulane students have been tutoring and mentoring throughout the semester."

This concert is free and open to the public. Tickets are not required. The concert will begin at 7:30pm and will be approximately 60 minute in length. This concert is for audiences of all ages, but is best enjoyed by ages 4 and up.