The 22-year-old student was riding his bicycle up Cherokee Street and turned onto Freret shortly after 10 p.m. when he saw three young men on the corner, he said after speaking to police Monday night. As he turned, they ran up and one hit him in the face with a gun to knock him off the bicycle, he said.
"They hit me one time, knocked me down and held me down at gunpoint," he said, a long, fresh cut under his eye.
While holding him down, they went through his backpack and took his laptop, phone and a few other electronic items before leaving, he said.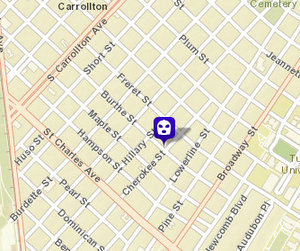 The attackers weren't particularly distinctive in appearance, he said — relatively average height and weight, wearing hooded sweatshirts and dark pants. He said they might have said something to him before the attack, but he wasn't sure because he had headphones in his ears.
A university student riding his bicycle through a Carrollton neighborhood Monday night was attacked and beaten by a trio of armed robbers, he said.