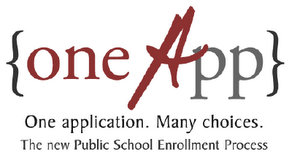 Six New Orleans charter schools — including two immersion schools in the Uptown area, the International School of Louisiana and Lycee Francais de la Nouvelle Orleans — will have their admissions controlled by a central, citywide process for students enrolling in the fall of 2014, state officials decided Monday night.
The common enrollment process known as the "OneApp" was launched last year as a way to unify the admissions process across all schools controlled by the Recovery School District, both to cut down on families' confusion and hassle of applying to many different schools, and to reduce questions about the fairness of individual schools' admissions policies. Parents applying to RSD schools list their top choices for their children, and a computer algorithm sorts all the applications and matches students to schools.
This year, the second for the OneApp program, the Orleans Parish School Board will join the process for the handful of traditional schools it runs directly, though the majority of OPSB charter schools have said they are not ready to join it. Pressure is growing for all schools in the city to participate eventually, however, and on Wednesday night the state Board of Elementary and Secondary Education voted to include the six schools it oversees — including ISL and LFNO — into that process.
This year's admissions process for next fall is already underway at many schools, and it will not be affected by the change. It will go into effect next year, for students applying to attend school in the fall of 2014 at ISL, LFNO, the International High School, the New Orleans Military and Maritime Academy, Edna Karr High School and Alice Harte Elementary.
A number of education-advocacy groups weighed in on the change. The Louisiana Association for Public Charter Schools, for example, said it supports the OneApp concept but that concerns from charter schools with specific missions — such as language immersion or the military education at NOMMA (officials from which actually spoke in opposition to the move) — had not been adequately addressed. Other groups, such as Stand For Children, agreed that the individual missions were important, but that they could be preserved even with the adoption of a common, fair, easy application process.
That "tension" between accountability and autonomy, as BESE member Kira Orange-Jones described it, was a source of concern for the board, but state officials said they believed the needs of individual schools can be easily met. For example, unlike most RSD schools, those chartered through BESE can accept students from anywhere in the state. In those cases, students from outside Orleans Parish could still enter the OneApp, but only apply to the school they were interested in, and the computer would just include them in the selection process for those schools but not any others, official said.
Ultimately, BESE members decided that they wanted more detail on how those issues were being resolved, and asked for an update in April. If the schools remain unhappy with the process, they said, the board can rescind the new policy.
ISL leaders did not appear at Wednesday's meeting, but have said recently that they did not think the OneApp is ready yet for the particular challenges of placing students in immersion schools. LFNO board chair Jean Montes said after the meeting that he has not yet formed an opinion on the OneApp process.
"We have a lot to learn about what it's going to mean for us," Montes said.
Lycee questions
One state official, however, said earlier in the evening that participation in the OneApp process help Lycee in particular answer some of the questions about diversity and its admissions process that have dogged the school since its opening last year.
Raphael Gang of the Louisiana Department of Education gave a generally glowing report on a number of issues regarding Lycee raised at the state board's last meeting. A parent who complained that her child wasn't being given enough language tutoring is now being provided with the necessary services, Gang said. The childcare center mentioned in Lycee's charter application met with the school officials in the last week to restart conversations about a partnership, he said, though First Steps school leader Linda McMillian appeared at the meeting to say no agreement was yet "set in stone."
And, through its outreach efforts, a full 50 percent of Lycee's students now meet the state standards for at-risk populations, Gang said, a dramatic improvement from the school's first year. Finally, the board's recent budget revision seems to have put the school on a path to financial stability, Gang said.
"We're excited that the leadership has taken such a strong approach to protect students," Gang replied. "We're excited about the future success of the school."
Gang's report drew criticism from two of the BESE members, Carolyn Hill and Lottie Beebe, who said she has a grandchild at Lycee. Beebe asked if state officials were concerned about the rapid turnover among the school board leadership or the failure to follow through with the McMillians in the school's first two years, and Gang said that the Department of Education does not see its role as micromanaging those issues in schools.
"What we want to hold schools accountable to is outcomes," Gang said.
Charter schools need the flexibility to change their plans when new circumstances arise, Gang said, drawing a sharp response from Beebe.
"In my world, that's misrepresentation. In my world, if you say you're going to do something, you do it," Beebe said. She added, ""I think it's hogwash to say we're going to do something, but as long as we have a certain academic outcome, anything is acceptable."
A handful of Lycee parents appeared at the meeting in support of the school. One suggested that recent complaints about the school come from a "small but inversely loud contingent" of parents, while two others spoke more generally about their enthusiasm for the school's offerings. One mother who described herself as a minimum-wage worker said she was thrilled at how comfortable the teachers had made what could have been an intimidating language-immersion experience.
"I just want to say how happy I am at the school," she said, noting that she would drive two hours every day to get her daughter there if she had to.
To read our live coverage of the meeting, see below.