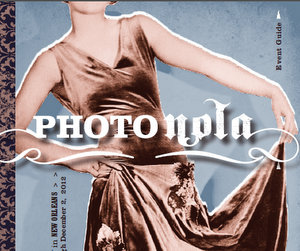 PhotoNOLA, the seventh annual citywide festival of photography, kicks off Thursday (Nov. 29) with opening weekend events through Sunday. More than 40 exhibitions will run throughout December, including openings Saturday in several Uptown galleries.
For more information, see the following information from festival organizers:
PhotoNOLA 2012
The Seventh Annual Festival of Photography in New Orleans
November 29 – December 2, 2012

(New Orleans, Louisiana) The seventh annual PhotoNOLA takes place November 29 – December 2, 2012 with a broad range of photography exhibitions on display throughout the month of December.

During the Festival, more than 40 exhibitions will feature work by Shelby Lee Adams, Deborah Luster, Louviere + Vanessa, Keith Carter, Kathleen Robbins, Steve Pyke, Aline Smithson, Priya Kambli, and an Indie Photobook Library pop-up, among others.

Workshops, gallery talks, and lectures are also included in the schedule of events. Other independently produced events take place before and after the four-day festival lineup. Most events are free and open to the public.

PhotoNOLA festivities kick into full gear on Thursday, November 29, with two daytime workshops led by Aline Smithson and Lori Waselchuk. The evening features the PhotoGALA Benefit Party & Print Auction at the Musée Conti Historical Wax Museum, beginning with a Patrons' Preview Party at 6pm and general admission from 7-10pm.

PhotoNOLA's Education Day is Friday, November 30 and features a morning session focusing on the artist/gallery relationship and is led by Sasha Wolf, owner of the Sasha Wolf Gallery in New York's Chelsea district. Mary Virginia Swanson leads the afternoon session detailing new markets for fine art images and explains licensing and reproduction rights. In the evening, two museums will host photographic programming. The New Orleans Museum of Art offers a special photo-focused Where Y'Art, including a lecture by their curator of photography, Russell Lord. And the Ogden Museum of Southern Art opens CURRENTS 2012, curated by Richard McCabe and is followed with our keynote lecture by Shelby Lee Adams.

PhotoNOLA's portfolio review, with an international cast of more than 20 curators, editors, and gallerists, takes place December 1-2. On Saturday morning Deborah Luster will lead a walkthrough of her exhibition at the Arthur Roger Gallery and in the afternoon Jennifer Schwartz will present her Crusade for Collecting lecture at the Ogden Museum. Saturday evening's PhotoWALK offers a public peek at the work of 65 rising photographers from across the country, all of whom are participants in the Review sessions. Receptions follow at photography exhibitions across the city with particular concentrations along the Julia Street and Magazine Street corridors.

Sunday, December 2, will include a lecture by noted photographer Henry Horenstein at the Ogden Museum, a portraiture workshop with Steve Pyke, and a wet-plate collodion demo at Homespace Gallery using a tent as a camera. The Contemporary Arts Center will host talks with Larissa Leclair, founder of the Indie Photobook Library and featured artist Priya Kambli. That night, galleries in the St. Claude Arts District will open their doors for a Sunday evening art stroll.

The following galleries in the Uptown area will be participating:

3 Ring Circus at the Big Top
1638 Clio Street | 70130
504-569-2700
Thur-Sat 2-6pm
Perspectives: Dinah DiNova, Britney Majure, and William Widmer
December 1-28, 2012
Opening: Saturday, Dec 1, 6-9pm

Ashé Cultural Arts Center
1712 Oretha Castle Haley Blvd | 70113
504-569-9070
Mon-Fri 10am-6pm
Reverend Samson "Skip" Alexander:
Eye Witness to History
November 10-December 10, 2012
Opening: Saturday, Nov 10, 11am

Cole Pratt Gallery
3800 Magazine Street | 70115
504-891-6789
Tue-Sat 10am-5pm
Leslie Addison and George Havard Yerger:
Field Notes: The Dialogue Continued
November 27-December 29, 2012
Opening: Saturday, Dec 1, 5:30-8pm

Coup d'Oeil Art Consortium
2033 Magazine Street | 70130
504-722-0876
Wed-Sat Noon-5pm, Sun+Mon 1-5pm
Souzan Alavi:
When loss converges with pain. Why.
November 29, 2012-January 5, 2013
Opening: Saturday, Dec 1, 6-9pm

Du Mois Gallery
4921 Freret Street | 70115
504-818-6032
Thur-Sat Noon-6pm + by appt.
Jackson Squared:
Will Crocker, Jackson Hill, Tom Varisco
November 10, 2012 -December 29, 2012
Opening: Saturday, Nov 10, 5-8pm
Artist talk: Dec 15th, 1-2:30pm

Guthrie Contemporary
3815 Magazine Street | 70115
505-897-2688
Tue-Sat Noon-5pm
5 Rooms/5 Photographers: Jane
Fulton Alt, Heidi Lender, Jennifer Shaw,
Aline Smithson and Ayumi Tanaka
November 29, 2012-January 26, 2013
Opening: Saturday, Dec 1, 6-9pm

HEY! Café
4332 Magazine Street | 70115
504-891-8682
Sun-Thur 7am-10pm, Fri+Sat 7am-8pm
Janell E. O'Halloran: Reconsidering Nature
December 1-31, 2012
Opening: Saturday, Dec 1, 5-8pm

McKenna Museum of African American Art
2003 Carondelet Street | 70130
504-586-7432
Thur-Sat 11am-4pm, Tue+Wed by appt.
Chandra McCormick & Keith Calhoun: Faces of Treme | New Works
November 30, 2012-January 26, 2013
Opening: Friday, Nov 30, 6-9pm
Panel discussion with the Photographers and others: January 2013, check photonola.org

New Orleans Photo Alliance
1111 St. Mary Street | 70130
504-610-4899
Sat + Sun 12-4pm and by appt
Kathleen Robbins: Into the Flatland
November 29, 2012-January 27, 2013
Opening: Saturday, Dec 1, 6-9pm

Octavia Art Gallery
4532 Magazine Street | 70115
504-309-4249
Tue-Sat 10am-6pm
Contemporary Antiques: Curated by Frank Relle
December 1-29, 2012
Opening: Saturday, Dec 1, 6-8pm

A PDF of the PhotoNOLA 2012 festival guide is available for download on our website: http://photonola.org/calendar/

For more information please see www.photonola.org.