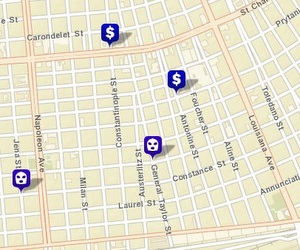 One man was arrested following a purse snatching at Constantinople and St. Charles as New Orleans police investigate a series of four unarmed robberies in the Uptown area in about a week's time, authorities said.
The first case took place around 11:30 a.m near the intersection of Antonine and Coliseum streets near Touro Infirmary. A woman leaving work with her phone in her hand felt a tug on her purse to realize it was being snatched from behind by a person she could only identify as a male, said Sgt. Sabrina Richardson of the NOPD Sixth District persons-crimes unit during last week's internal meeting of the district leadership.
Around 9 p.m. that evening, the second purse snatching was reported at Constantinople and St. Charles. Two women passed two men on the sidewalk, and one of the men said 'hello' to them, Richardson said. The women stopped to speak, and one of the men grabbed one of the women's purses and ran off, Richardson said.
The woman's father began tracking an iPad that was in the purse, and it appeared in the 1600 block of North Robertson Street, Richardson said. When police arrived, they found the victim's insurance and library cards in a trash can in front of a residence, and the resident inside said she had loaned her car to a friend named "Greg," Richardson said.
Investigators then learned that another man, 31-year-old Deshawn Harris, was with "Greg," and he was identified by both women as one of the men from St. Charles Avenue. Detectives also recovered the stolen property, Richardson said, and Harris is charged with simple robbery, according to jail records.
The third recent simple-robbery case was reported shortly before noon Nov. 12 in the 4500 block of Constance, just on the other side Napoleon Avenue in the NOPD Second District. A man getting out of his vehicle was approached by two men on bicycles who threatened to hurt him, so he gave them his backpack with a wallet, phone and iPad, said Lt. Shaun Ferguson of the Second District investigative unit. In response, Second District Commander Paul Noel urged patrol officers to make more stops of suspicious people on bicycles.
The fourth case was reported about 10 a.m. Wednesday at Magazine and General Taylor, and police believe it shows similarities to the first case at Antonine and Coliseum. In that case, the victim was on her phone at the bus stop when a man riding his bicycle toward her on Magazine jumped off his bicycle and tried to get her purse and phone, Richardson said. The victim began screaming, so the suspect got back on his bicycle and rode off, Richardson said.
Homeless man beaten, robbed and dragged by truck
In a separate case, a homeless man was dragged down South Rampart Street by a truck as he tried to stop a group of man who robbed him of $20 with a wooden plank, police said.
The victim was walking on South Rampart near the Pontchartrain Expressway around 4 a.m. Nov. 6 when a brown truck pulled up, Richardson said. The driver jumped out with a 2×4 and demanded the victim's money, and then attacked him when he refused, Richardson said. When the victim fell to the ground, his assailant went into his pants pocket and pulled $20 from him, then got back in the truck, Richardson said.
The victim got up and tried to jump on the truck, but it took off down South Rampart and began dragging him until he let go, Richardson said. He suffered road-rash style injuries on the length of his body, but was released from the hospital and investigators haven't been able to find him since, she said.
Guns stolen from unlocked cars
Two more opportunistic thieves were given the potential to become armed robbers in recent weeks by Uptown gun owners who left their weapons in their vehicles, Second District officials noted.
On Nov. 5, in the 900 block of Dublin Street, a Smith & Wesson .357-magnum was stolen from a vehicle said to be locked, though it showed no signs of forced entry, said Sgt. Warren Keller of the Second District property crimes unit. The following day, a Smith & Wesson revolver was stolen from inside an unlocked car on Versailles Boulevard, Keller said.
Reporter Marta Jewson contributed reporting from the NOPD Second District's weekly leadership meeting.