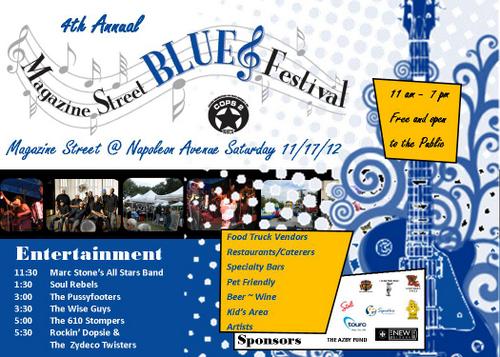 Now in its fourth year, the Magazine Street Blues Festival returns to Laurence Square on Saturday with performances by Rockin' Dopsie, the Soul Rebels and other bands, as well as food trucks, art sales and a kids' area — all to raise money for a citizens' group that supports the New Orleans Police Department's Uptown-based Second District.
The festival is hosted by COPS 2 (Citizens Organization for Police Support 2), which was founded in 1990 to support the officers of the Second District. In the recent past, COPS 2 has helped pay for counseling for officers who need it for any reason, computers and scooters for the officers, and awards for outstanding police work. One major project this year has been a series of renovations to the aging Second District station, said District Commander Paul Noel: a new flagpole, repainting the interior, and new lighting outside — illuminating a major Uptown corner even as police preach that better lighting is the best way to make an area safer.
The majority of the proceeds from this year's festival will support the counseling program, Noel said, but the work of COPS 2 is a constant presence for the department.
"There's a million things that COPS 2 does for us, even down to the ink for our printers," Noel said. "You name it, they're involved in it. It would be hard for us to function without COPS 2."
The festival runs from 11 a.m. to 7 p.m. at the corner of Napoleon and Magazine — across from the Second District station — and the street will be blocked off in that area. The music lineup is as follows:
11:30 a.m.: Marc Stone's All-Stars Band
1:30 p.m.: Soul Rebels
3 p.m.: The Pussyfooters
3:30 p.m.: The Wise Guys
5 p.m.: The 610 Stompers
5:30 p.m.: Rockin' Dopsie and the Zydeco Twisters