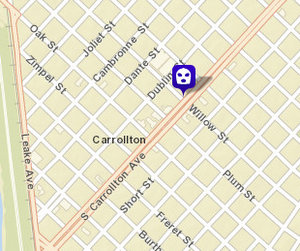 The Chevron station at Carrollton and Willow was robbed at gunpoint on Thanksgiving evening during a holiday weekend that also saw another robbery in Gert Town, a shooting in west Carrollton and stabbings in Gert Town and the Lower Garden District, according to police reports.
In the first robbery, two masked men holding guns entered the Chevron in the 1400 block of South Carrollton just before 10 p.m. Thursday, according to the initial police report. They demanded the cash from the register, and then left with an unknown sum of money, the report states.
In the first cutting incident, a 28-year-old woman walked outside a location in the 3100 block of Audubon Street around 11 a.m. Friday to see a stranger standing by her vehicle, the report states. She yelled at the man to get away from her vehicle, and he lunged at her and cut her upper left arm with an unknown object, the report states. She told police afterward that the man may have had mental issues, the report states.
The shooting took place just before 11 p.m. Friday in the 1600 block of Monroe Street, where a 39-year-old woman was riding in a vehicle, the report states. An unknown individual began shooting at the vehicle, grazing the woman in lower abdomen and thigh, and the driver took her to the hospital for treatment. No word on her condition was immediately available.
The second stabbing incident took place around 7:45 p.m. Saturday in the 2100 block of Rousseau Street, reports show. A 22-year-old woman got into a fight with a friend who then grabbed a kitchen knife and stabbed her over her left eye, the report states.
The second robbery took place around 3:30 a.m. Sunday in the 4500 block of Thalia — near the intersection of Washington, Earhart and South Jefferson Davis Parkway — where a 31-year-old man was approached from behind by a stranger with a black semi-automatic handgun, reports state. The gunman demanded his belongings, and took his wallet, his watch and a diamond ring, the report states.