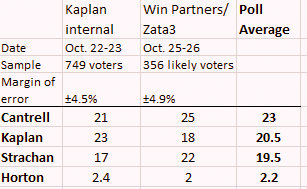 Two polls commissioned last week in the District B City Council race each show different results among the top three candidates, but both suggest that the Nov. 6 election will be fairly close and lead to a runoff.
Who will be in that runoff is not made clear by the two polls, however:
The first poll to be released, commissioned by the Win Partners consulting group working with LaToya Cantrell's campaign, shows her in the lead, followed by Eric Strachan.
A second poll, commissioned by the Dana Kaplan campaign, shows Kaplan in the lead, followed by Cantrell.
An average of the two polls' results, similar to those done by Real Clear Politics and CNN, shows Cantrell in the lead, followed by Kaplan with just a single point lead over Strachan.
But a prediction of a runoff between two candidates based on an average of polls conducted by those close to the two candidates should not be surprising. Nate Silver, who analyzes polls at the FiveThirtyEight blog hosted by the New York Times, has written repeatedly that campaigns often "have very good pollsters working for them, [b]ut the subset of polls which they release to the general public is another matter, and are almost always designed to drive media narrative."
In both polls, the gap between Cantrell, Kaplan and Strachan remained within the margin of error, and both polls left a third of the electorate unassigned — more than any one candidate claimed.
"This election is only five days away, and it's going to be decided by a razor-thin margin," the Strachan campaign acknowledged in a fundraising email to supporters Thursday.
Both polls showed Marlon "Buck" Horton with about 2 percent of the vote.
One finding of the Win Partners survey was that this election may not be decided along the black-white racial split of conventional wisdom. Decided black voters were divided among Cantrell by 67 percent, Kaplan by 22 percent and Strachan by 6 percent, while white voters chose Strachan by 56 percent, Kaplan by 29 percent and Cantrell by 14 percent, the survey found.
Meanwhile, the Cantrell campaign also released a separate news release claiming that the demographic turnout during the early voting period favored their candidate:
District B voters have cast votes early in record-setting numbers and the results indicate strong and growing support for LaToya Cantrell. At the close of early voting on Tuesday evening, 3962 District B voters had voted, which was compromised of

59.3 percent African Americans,
35 percent white,
6.7 percent other
72 percent Democrats
11 percent Republican and
17 percent other.

Particularly striking is that although African Americans represent 51 percent of registered voters in District B, close to 60 percent of the early voters come from this demographic. The long lines at City Hall show enthusiastic voters, who are dedicated to re-electing President Obama and electing Cantrell, the official Democratic candidate in the New Orleans District B City Council race. Cantrell says she's happy to see such a strong response, because it shows voters want more than candidates' promises.
Early voting in District B this year represents a surge of nearly 40 percent more than the approximately 2,900 ballots cast early in the 2008 presidential election, the Cantrell campaign noted.