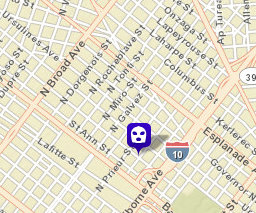 After a pair of armed robbers knocked a bicyclist to the ground with their car Friday afternoon before taking his belongings at gunpoint on an Uptown street, the same suspects appear to have repeated the crime with another victim on a bicycle in the Treme area the following night, New Orleans police say.
In the first case, the victim was riding a bicycle near Chestnut and General Taylor around 4 p.m. Friday when he was hit from behind by a car and knocked to the ground, and the female passenger and male driver got out and robbed him at gunpoint, according to initial police reports.
Around 9:45 p.m. Saturday, a man was riding his bicycle in the 1900 block of Dumaine Street when he was tapped from behind by a car, police reports show. A young woman got out of the car and put a gun to his head, while a second woman patted him down, taking his phone and wallet, the report states.
In addition to the similarity in the manner of attack, the woman with the gun is described the same way in both cases, said Sgt. Sabrina Richardson of the NOPD Sixth District property-crimes unit. She is a small-framed black woman of about 20 years old with "masculine" features, wearing a red-and-white ski cap, Richardson said. Her male accomplice in the Uptown case is described only as having a dark complexion and braided hair, and the vehicle is described as an older-model compact car. Neither victim was able to get the license plate, Richardson said Wednesday during the Sixth District's weekly internal leadership meeting.
There is nothing to indicate that either victim was targeted based on any sort of prior relationship or that the robbers knew the victims in any way, Richardson noted. In the first case, the victim's story was corroborated in every detail by an independent witness, Richardson said. The second victim noted that the car had made the block a time or two before hitting him, and said two more people may have been inside it, Richardson said.