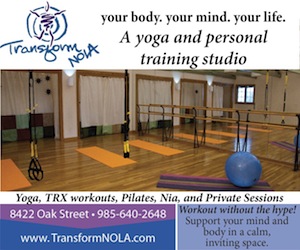 Transform NOLA is a yoga and personal training studio that offers yoga, Pilates, and TRX workout classes. It also provides one-on-one personal training, workshops and yoga teacher training. Save 20% TODAY ONLY on gift cards and class and personal training packages!
We strive to give you an incredible mind-body exercise experience in a supportive, calm environment. This enables you to focus on the task at hand, without distractions — and the result is that you get more from the experience. Owner Mia Oramous is a 500-RYT and ACE-certified personal trainer who will design a personalized program that fits your temperament and accommodates your particular needs and goals.
Click here and use promo code UPMESS20 to save 20% TODAY. Also, find more information on classes and training at www.TransformNOLA.com.