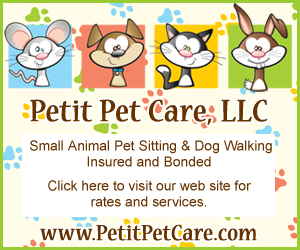 Going out of town? Working late? Have an after school or work event that prevents you from getting home? Have an injury or illness? Whatever the reason, if something is preventing you from taking care of your pet, we can help.
My name is Christy and I'm a professional pet sitter. I've taken my life-long love of animals, along with my years of caring for my own various pets (dogs, cats, fish, mice, birds and a rabbit) and my friends' pets and started Petit Pet Care. I'm professional because I am incorporated, bonded, insured and a member of Pet Sitters Associates and abide by their code of ethics. I take my business and the care of your pet very seriously.
Petit Pet Care takes care of your pets when you aren't able to. We come to your house, where your pet feels most comfortable, feed them, give them fresh water, walk them, clean their litter box or bedding. Care goes beyond just the basics and includes TLC – we spend time with your pet, petting, brushing, and/or playing – what ever they need. We send you daily updates via text or email, including photos, so you can be assured all is well. If you are out of town, we can bring in your mail and newspaper, adjust lights and keep an eye on things around your home.
Please visit our web site www.petitpetcare.com for details on services offered, service area and rates. Like us on Facebook and mention you saw us on Uptown Messenger for a coupon good for 10% off on your first 5 pet sitting visits or first 5 dog walks.