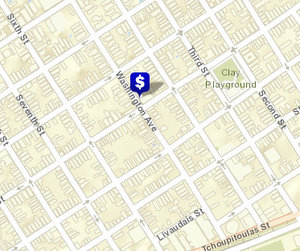 A 25-year-old woman didn't get the job she wanted an Irish Channel dog spa last week, so she made off with a computer monitor instead, police said.
Alexis Smith had actually interviewed for the job at Belladoggie Resort Spa for Dogs on Washington Avenue several weeks previously, said Freba Maulauizada, a manager at the sister establishment Belladonna Day Spa who was helping out with hiring at Belladoggie. Maulauizada said Smith didn't seem to be a good fit for Belladoggie, however, so she told her she wouldn't be hired, and thought that was the end of it.
On Oct. 10, Smith returned and said she had another appointment with Maulauizada, who wasn't there at the time, so the other employees let Smith into an office to wait for her, Malauizada said. When no one was looking, however, Smith grabbed a computer monitor and took off, said Sgt. Marc Hedgemon of the NOPD Sixth District property-crimes division.
"The lady was gone, and so was the computer monitor," Hedgemon said.
Investigators quickly traced the monitor to a pawn shop and easily identified Smith, Hedgemon said. She was not booked in jail, but issued a court summons instead, according to the police report, and no court records for her were available yet at the Orleans Parish Criminal Sheriff's Office website.
The heist did not seem particularly well thought out, Maulauizada said: Not only was the woman on the Belladoggie security camera, she had also filled out a complete application with her name, address and social security number.
"Apparently she just had a moment and needed some fast cash," Maulauizada said.