Some explanation is required.  My day-to-day persona is that of Owen Courreges, Attorney at Law.   However, on Thursday evenings I have been breaking out my 1923 Brunswick suitcase phonograph at the Bayou Bar in the Hotel Pontchartrain.  There, I play 78 rpm records as my alter ego – D.J. Luddite (because D.J. Luddite eschews modern technology).
It's kind of like Garth Brooks and his rock alter ego Chris Gaines, only far less lame and pretentious.  Well, at least less pretentious.
However, for the past few weeks I've been absent.  Music has been silenced at Bayou Bar.  This is regrettable, because Bayou Bar has a storied history in the music community.  Reportedly Cole Porter played here somewhat inconsistently on weekends for about twelve years.  Frank Sinatra and Frankie Lane used Bayou Bar as their watering hole, and are even rumored to have performed on occasion.
The Hotel Pontchartrain was recently renovated and reopened as an extended-stay hotel for seniors, although it has recently ventured into short-term rentals for the cast and crews of productions filming in New Orleans.
This wasn't as much of a change as people think.  The Pontchartrain was never really a traditional hotel even when it offered nightly stays; many people have set up residence there, especially seniors, throughout its history.  A decision of the Louisiana Supreme Court from 1955, Steere v. Martson, held that a wife in a divorce action established residency in Orleans Parish by living at the Hotel Pontchartrain.
I don't want to put words down anyone's throat when it comes to why Bayou Bar will no longer be featuring D.J. Luddite, although apparently the whole music schedule has been cancelled due to permitting issues with the city, or as I've called it, the "War on Live Music."
Although I'm not sure why the city decided not to allow Bayou Bar to continue having music, I suspect that its zoning categorization has something to do with it.  Although hotels are generally allowed to have live entertainment under the zoning code, the Hotel Pontchartrain isn't just a nightly hotel and really never has been.  However, now it has kitchenettes throughout and presumably cannot claim a nonconforming use due to being closed for renovations for more than six months.
Thus, while the Hotel Pontchartrain can't really be called an apartment building with its round-the-clock reception, in-house kitchen and downstairs bar, it also isn't a typical hotel.  Thus, the city can reasonably argue that it isn't entitled to the zoning amenities of a hotel, including live entertainment.
Still, the Hotel Pontchartrain has always been a hybrid, and to my knowledge, it has never had significant problems with the city in the past. The music is relatively quiet; Phil Melancon and jazz trios in a masonry structure aren't exactly the types of acts that cause traffic tie-ups or noise complaints, even if they manage to draw a substantial crowd (D.J. Luddite never drew crowds. Maybe a suitcase phonograph with a 40 watt amplifier doesn't exactly scream "dance party").
This, however, is the central problem with the way the Landrieu Administration is dealing with zoning.  Reactive enforcement to zoning issues deals with conditions that may actually be causing problems, but Landrieu has elected, instead, to engage in broad enforcement sweeps.  He has also apparently elected to construe the zoning code in a restrictive fashion.  Rather than bending over backwards to issue mayoralty permits, Landrieu tries to find reasons not to grant them.
With the Hotel Pontchartrain, the city could just say that the property has historically been a hotel, which is defined pretty broadly under the zoning code anyway, and thus the Hotel Pontchartrain can have live entertainment.  That would be a perfectly defensible construction of the zoning code.
For his part, Landrieu seems to be scrambling for ways to deny responsibility.  In a pamphlet recently issued to guide venues through the permitting process, the Landrieu asserts that, quote, "[M]ayoralty permits no longer have anything to do with the mayor or his office." 
That is a complete, utter, boldfaced lie.  I feel dirtier just for reading it.
The pamphlet goes on to note that mayoralty permits are issued by the Department of Finance, which is a part of the executive branch of which Mayor Landrieu is head.  He's the supervisor. He sets the policies. He appoints the Director of the Department of Finance with the approval of the city council (which is very deferential in these matters).  For Mayor Landrieu to disclaim responsibility for Mayoralty Permits would be like the President denying any responsibility for foreign policy. "Foreign policy no longer has anything to do with the president or his office.  It's handled by the Department of State."
Although elected officials can delegate, they are the only ones responsible to us.  Thus, if a person appointed by the mayor lays a proverbial egg, we blame the mayor, not his subordinate.  The buck cannot be passed.
If Landrieu expects this city to accept that he is not responsible for the enforcement and permitting policies the branch of government which he leads, he needs to say so quickly so we can replace him with somebody who, in Trumanesque fashion, will actually take charge.  Even taking Landrieu at his word that he hasn't masterminded the music crackdown, this whole "my subordinates can do what they want" style of governing isn't working and insults our collective intelligence.
The proof is before our eyes.  Nobody can play on the piano that Cole Porter played on for over a decade without breaking the law.  Sinatra's watering hole is a music-free zone. This is happening in America's music capitol and it's Landrieu's fault.
He needs to own it, or fix it.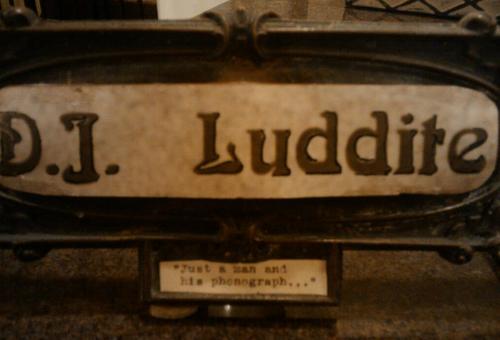 Owen Courrèges, a New Orleans attorney and resident of the Garden District, offers his opinions for UptownMessenger.com on Mondays. He has previously written for the Reason Public Policy Foundation.
D.J. Luddite is no more.