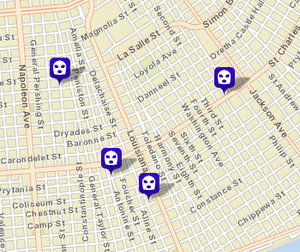 A Camp Street resident was shot in the chest during a carjacking Tuesday night in the Touro neighborhood of Uptown New Orleans, one of four robberies reported within several hours.
Around 10:30 p.m., the victim was approached by two men in his driveway at the corner of Camp and Delachaise and, during the ensuing confrontation, the man was shot in the chest, said Lt. Frank Young of the NOPD Sixth District investigative unit. A gray 2004 Cadillac Escalade with license plate "SJT 494" was taken in the robbery, police said.
The Camp Street carjacking was the second of four Uptown armed robberies reported Tuesday night. Earlier in the evening, a woman had reported being robbed of her purse at First and St. Charles on the edge of the Garden District, Young said.
Then, while police were still investigating the Camp Street case, a third robbery was reported in the 2300 block of Marengo, the corner opposite the Crocker school in the Milan neighborhood. In that case, a Toyota Solara was taken, but police already nearby looking for the Escalade quickly spotted the Solara and followed it to the Musicians' Village area of the upper Ninth Ward, where the occupants of the vehicle got out and ran off on foot. Two suspects were apprehended, but as of 3 a.m. police were still searching for at least one more.
The fourth robbery was reported in the 3600 block of St. Charles around 2 a.m., police said.
The two suspects apprehended in the Ninth Ward were positively identified by the Marengo Street victims, and one of them was also identified by the victim in the case at First and St. Charles, Young said. Whether they are connected to the Camp Street case remains under investigation.
Katie Baudouin, who lives in the same block of Camp where the shooting took place, said she heard the gunshots and looked out the window to see a police car already on Delachaise heading toward the scene.
"They were there immediately, and then they just started swarming right there," she said.
She hasn't ever heard a shooting near her home in the three years she's lived there, she said, and it alarmed all her neighbors.
"Everyone on the block heard it," Baudouin said. "It's definitely too close for comfort."
[Note: This article was first published at 12:02 a.m. Wednesday and updated several times, most recently at 4:11 a.m. Wednesday.]