Performance among Uptown public schools in the most recent school year was in many ways similar to that in the year before, according to state scores released Monday. A cluster of high-performing schools continued gains that in many ways lead the city, while a somewhat larger group of low-performing schools split between those making progress toward the middle, those that are slowly improving but still dismally low, and a handful with results that can only be described as disappointing.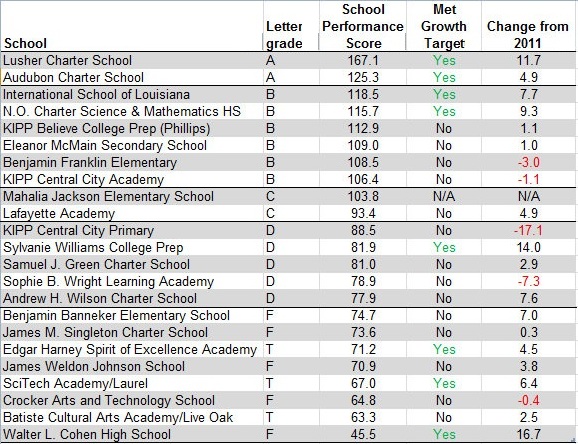 The Top 10
Uptown has a strong share of the highest-performing schools in New Orleans — only 18 of the city's nearly 80 public schools scored an 'A' or a 'B,' and eight of those are in Uptown neighborhoods.
Lusher Charter School, which is mostly selective-admission, continues its performance as a standout school, scoring 167.1 (out of 200) and behind only Benjamin Franklin High School in the entire city. The growth in its scores were strong as well, surging nearly 12 points from the year before.
Audubon Charter School, which is open admission in kindergarten but admits only students who can speak French in the upper grades of its French program, was the only other Uptown school to receive an 'A' grade, at 125.3. Audubon also improved by nearly 5 points over 2011, easily meeting its growth target for the year.
The International School of Louisiana, which has similar admission policies to Audubon's French program, and New Orleans Charter Science and Mathematics High School continued their march toward the city's highest-performing schools, narrowly missing an 'A' designation with respective scores of 118.5 and 115.7. Both met their growth goals with 8 or 9 points each over the previous year — and SciHigh has grown an amazing 40 points since 2008.
The other schools to earn a 'B' this year were KIPP Believe College Prep (112.9), Eleanor McMain Secondary School (109), Benjamin Franklin Elementary (108.5) and KIPP Central City Academy (106.4). KIPP Believe and McMain had been keeping pace with ISL and SciHigh over the last four years, but fell behind last year with only 1 point of growth. Baby Ben's score actually dropped 3 points, almost all the way back to its 2008 level, reflecting how little its score has actually changed from year to year since then. KIPP Central City's middle school also scored a point lower than it did last year, but it remains nearly 30 points above where it started in 2009.
Finally, Uptown has two 'C' schools this year (up from zero in 2011): Mahalia Jackson Elementary and Lafayette Academy. Mahalia Jackson is making its first appearance on the state test scores this year with a promising 103.8 — just above the state average of 102.9 — and barely a point shy of the cutoff at 105 for a B. Lafayette was the only Uptown school to improve its letter grade this year, continuing its steady growth of 35 points since 2008 to reach 93.3 this year.
On the way up
Three schools that have been rated a 'D' or worse for years can make a convincing claim that they are also on the way to a 'C' grade: Sylvanie Williams College Prep (81.9), Samuel J. Green Charter School (81) and Andrew Wilson Charter School (77.9). College Prep's dramatic 14-point gain in particular should allay some of the questions about the Recovery School District's increasing trust in its operator, NOLA College Prep, especially after the school faltered and lost 4 points last year. Green grew about 3 points, on a relative par with its steady rise of 20 points since 2008, and Wilson showed a solid growth of 7.6 points — not enough to meet its target, either, but also nearly 20 points above its 59 just two years ago.
Three more schools that had grown to earn a 'D' last year were given an 'F' designation this year, because the threshhold changed: Benjamin Banneker Elementary, James Singleton Elementary and James Weldon Johnson Elementary. All three were above 65 last year, the bar for a 'D' then, but failed to reach a 75 to avoid the 'F' this year. Banneker posted a 7-point increase to 74.7, positioning itself to move out of failing status as it prepares to move to a new campus in Hollygrove. Singleton barely changed from last year at all, rising 0.3 points to 73.6. Johnson's gain was stronger at 3.8 points, but started from farther back and only reached 70.9.
Finally, a group of three other schools can also claim some upward momentum: Edgar P. Harney Spirit of Excellence Academy, Sci Tech Academy at Laurel and Batiste Cultural Arts Academy at Live Oak. All three are technically still considered "transitional" campuses, in their second year as a new operator of a previously failing school. Harney grew 4.5 points to 71.2, SciTech grew 6.4 points to 67 and Batiste grew 2.5 points to 63.3 — with Harney and SciTech actually meeting their state growth goals.
Troubling trends
Lastly, there were a handful of Uptown schools that had troubling results in a variety of ways.
KIPP Central City Primary continued a precipitous decline this year, falling 17 points to 88.5, more than 30 points off its peak in 2010 — dropping from an 'A' to a 'D' school in two years. In fact, the score for the elementary school is much lower than its first year of scoring, 2009, when it scored a strong 'B' at 114.
[Update, 11:44 a.m.: This is the first year that KIPP Central City Primary has been tested on its own; in previous years, its score was an estimate based on that of the upper-grade students at KIPP Central City Academy, writes Jonathan Bertsch, Director of Advocacy for KIPP New Orleans Schools, in the comments below. "KIPP Central City Primary's true academic performance has not been accurately represented by the School Performance Scores it has received to date," Bertsch writes. "KCCP's true performance has been both more modest and less volatile."]
Last year, following steady gains of about four points per year, Sophie B. Wright Institute for Academic Excellence had seemed poised to earn its first 'C' rating this year. Instead, Wright faltered this year as well, losing more than 7 points to end up as a low 'D' again, erasing its gains since 2009.
Crocker Arts and Technology School continued its slow downward drift since its first year of testing in 2010, losing another 0.4 points to end at 64.8. That score represents one of the lowest remaining in the city among schools not already in some sort of transition.
Finally, Walter L. Cohen High School represents a paradox of sorts. Its nearly 17-point gain this year leaps off the page among the best improvements in the city, but its total School Performance Score of 45.5 is still the city's lowest. The school is currently in a period of transition unlike almost any other — state officials had planned to let NOLA College Prep's rising upper grades take over the campus one year at a time, but this month abruptly announced that Future Is Now schools would take over Cohen's operations mid-year, leading to a walkout and protests among the students.