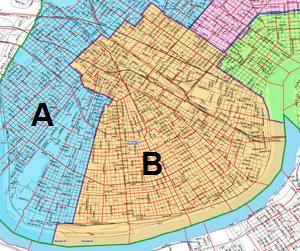 With less than a month before the first round of voting in the District B City Council election, Eric Strachan has led the fundraising race but Dana Kaplan has the most cash left, as the impact of a marijuana charge against LaToya Cantrell's husband on the race remains unclear.
Fundraising

With $70,264 in outright contributions, Strachan's fundraising totals topped the list of the four District B candidates in the reporting period up to Sept. 27,
according to his report
. Strachan listed 217 individual donors, and those giving the maximum $2,500 include Bollinger Shipyards, Mark L. Schulingkamp of the M.G. Maher shipping company, Amy Schulingkamp, Burnside Plantation LLC (which includes Kevin Kelly, owner of Port Cargo Service LLC, as a member) and Lynes "Poco" Sloss, president of Bellwether Technology who has served on numerous city boards. Keith Hardie of Maple Area Residents, Inc., donated $2,000, and the list also includes numerous members of the Coliseum Square Association, which Strachan's parents helped found in the 1970s.
Strachan has spent approximately $40,000, with major expenses being more than $7,000 on Special Services Consulting LLC, more than $8,000 on staff members Cole Halpern and Kyle Shepherd, $2,500 on Teddlie Stuart Media Consulting and nearly $5,000 to Print All in Belle Chasse for yard signs and other materials.
By Sept. 27, the end of the reporting period, Strachan was left with $30,157.23 on hand.
Kaplan raised $55,516 in contributions during the same period from 272 individuals, and when combined with more than $5,000 in donated goods and services and nearly $15,000 in loans from herself, her family and others, actually had the most total receipts of any candidate at $75,450.75,
according to her report
. Her $2,500 donors were developer Pres Kabacoff, attorney Stephen Rosenfield, and Ronald Feldman Fine Arts Inc. of New York City. Other contributions include $1,500 from Gretna contractor Creek Services, $1,500 from the Plumbers and Steamfitters Union in Metairie, $1,000 from local contractor Bryan Gibbs and $250 from former mayoral candidate James Perry.
Kaplan spent $36,695.11, with major expenses including $7,500 in fundraising consulting from Gulf Coast Resources, $6,250 to campaign manager Lelia Gowland, $5,100 to ACA Realty in rent for campaign headquarters, $4,000 for consulting from Ourso Beychok Inc., and more than $2,300 to Mele Printing of Covington.
Kaplan ended the period with $33,372.86 in cash on hand, and wrote in an email Wednesday morning that she is pleased with the report.
"I'm excited to enter this final month of the campaign with such broad support," Kaplan wrote.
Cantrell's fundraising lagged considerably behind Strachan's and Kaplan's, totaling $31,970 during the period from 51 donors,
according to her report
. Her $2,500 contributions come from Douglas Ahlers, director of the Harvard Kennedy School Broadmoor Project, Boulderado LLC, a Nevada corporation with the same address as Ahlers, Liberty Bank, Robert Reily, Reily Foods and Mary Zervigon. Among her other contributions are $500 from Walter Isaacson, the former CNN chairman and
Time
managing editor.
Her major expenditures include campaign consulting from Cygnet Inc. ($9,436), Win Partners LLC ($5,000), Mario Zervigon ($5,000), GCR ($2,000) and David Winkler-Schmit ($1,020).
Cantrell ended the period with $6,898.78.
"Much of our campaign contributions come in small amounts from working class people who have either benefited from LaToya's work and dedication, or recognize what she has accomplished," the Cantrell campaign said in a statement Wednesday afternoon. "She doesn't come from a rich background, so our campaign is a grassroots one, and frankly, we like it that way."
Marlon "Buck" Horton reported spending $1,123 on suits, transportation and printing during the period,
according to his report
. His report lists an equal amount of donations to the same vendors, but Horton said in an interview Wednesday that he actually made those purchases out of pocket, and that he had been instructed to list them that way on the campaign finance form. Horton said he doesn't plan to do any fundraising or advertising, because his name is already well known.
"In my district, more people know me than know them," Horton said of the other candidates. "I already have established a following. I don't want your money; I want your vote."
The marijuana controversy
While Cantrell has asked for privacy for her family relating to her husband's charge of marijuana possession after a rolled joint allegedly fell out of his pocket in court, one opponent has criticized her husband for not resigning his position as a city attorney, and another is suggesting that LaToya Cantrell herself should drop out of the race.
Kaplan issued a statement Saturday insisting that Jason Cantrell resign immediately, citing the syndication of news articles about his arrest around the country "damaging the image of our city and state."
"This story might have ended when my opponent, LaToya Cantrell, announced that her husband would be resigning," Kaplan's statement read. "It now appears that Mr. Cantrell has decided not to resign, and her statement was false. Now, the story will be revisited and repeated and the people, businesses and employees of the City of New Orleans will pay the price."
Horton said that the marijuana charge itself is obviously not a major crime, but shows a disrespect to the court system. It has begun to dominate the campaign, he said — citing the taping of a recent debate that began with questions about it — and said Cantrell should drop out of the race, get the issue resolved and then make another bid for public office afterward.
"Everywhere we go, somebody is asking me about this," Horton said. "This situation has become a distraction for all the candidates."
Cantrell has said she would remain in the race, and the campaign issued a statement Wednesday afternoon criticizing the ongoing attention to the charge.
"It's sad to see a campaign using that situation for a cheap political stunt; that's just politicizing an issue that now resides between her husband and his employer," the statement reads. "We think the people of District B are focused on the candidates' records of accomplishment, not distractions like this."
The Strachan campaign did not respond to a request for comment Wednesday.
Other campaign news and events
The final month of the campaign brings a flurry of activity, including most immediately a candidates' social hosted by the Irish Channel Neighborhood Association at 7 p.m. Thursday at 715 Washington Ave.
Other recent news and events include:
Cantrell was honored last week as a "recovery hero" by the Dominican Friars, Province of St. Martin de Porres (Southern Dominicans), for her work in Broadmoor helping the city recover. She also plans to participate in a candidates' forum Friday morning at New Zion Baptist Church, 2319 Third Street, and attend the Hollygrove Neighbors Association Meeting at noon Saturday at St. Peter AME Church, 3424 Eagle Street.
Horton said he is devoting much of his energy right now to the upcoming play about his life story, Definition of Bounce, based on the book of the same name he wrote with Alison Fensterstock. The play will be staged at the Joy Theatre on Canal Street at 7 p.m. Oct. 25.
Kaplan won the endorsement of the Independent Women's Organization on Tuesday evening. She will be the next candidate featured in the Handsome Willy's DJ series Friday night.
Strachan recently held a campaign fundraiser at The Saint bar in the Lower Garden District featuring DJ Jubilee and Al 'Carnival Time' Johnson.
[Note: This article was first published at 2:08 p.m. Wednesday and updated at 3:32 p.m. with the Cantrell campaign's responses.]