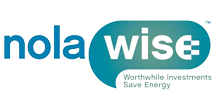 About NOLA Wise
Funded by the 
Department of Energy's Better Buildings Program
, NOLA Wise provides project management services that help homeowners save up to 30% on their utility bills.  We provide a professional and thorough home energy assessment, quality work from vetted contractors, as well as access to incentives and loans to pay for the retrofit.
Global Green USA, an environmental nonprofit organization, manages the program in New Orleans in partnership with the Southeast Energy Efficiency Alliance and the City of New Orleans. With NOLA Wise, homeowners can reduce their utility use and their impact on the environment. In addition to feeling safer, healthier, and more comfortable, households can save on monthly bills – always a plus in this economy! The program's goal is to provide a turn-key service (one-stop-shop) for the weatherization of New Orleans homes. NOLA Wise connects families with professionals who will get the job done right.
To learn more about Global Green USA's NOLA Wise Program, stop by and visit us at the Green Building Resource Center at 841 Carondelet St, call 504-525-WISE, email us at nolawise@globalgreen.org, or sign up here.