By Eric Strachan
Crime is the number one issue facing New Orleans right now. This recent wave of shootings illustrates what we all know– this has to stop. It is with this in mind that I am honored that District Attorney Leon Cannizzaro, Jr, has endorsed me for City Council District B.
"I believe that Eric understands the issues facing the residents of this district better than any candidate in the field.  He understands better than any candidate how to reform our criminal justice system to increase public safety," said Leon Cannizzaro. "While he understands and supports initiatives that will allow our city to get smarter on crime, he also understands that we need to get tough on violent criminals."
The District Attorney has been smart on fighting crime, and tough on all violent crime. It's an honor to stand with him. We both agree that crime is our defining fight as a city, and as a generation.
As Councilmember, I will work to get more officers on the street, not behind a desk. I will work with the council to get the NOPD the proper funding to so officers can have the proper equipment and training to make our streets safer. And I pledge to bring more jobs and opportunities to all of District B.
Today, our police force is hurting. Attrition eats away at our core of most experienced officers, morale is low, crime is high, and we have difficulty graduating a full recruiting class. The City Council's job is to oversee spending, and when I'm on the council I'll guarantee more investment in new recruits and that the money we're paying is going to those who are working the beats on the street, and not to those pushing paper behind a desk.
Better training, procedures, and equipment can also help our officers do their jobs. This is a budgetary issue, so strong leadership from the council can make a big difference. We need to hold the NOPD accountable for how it's spending its money.
The true, long term fix to our city's crime problem, however, is expanded economic growth and opportunity throughout the community. In District B, Stacy Head spearheaded increased investment in certain key corridors, like Freret Street and Oretha Castle Haley, and I promise to continue and expand on her leadership. We also need to make sure we're listening to community members, and ensuring their voices are a part of the process. Strong communities are central to a healthy, safe city, and it's up to our neighborhood leaders to stand up for progress, and forget about politics as usual.
New Orleans is rising, our schools are improving, we have new industry coming into town, and visitors continue to pour into our city– but crime threatens these gains. We must act now, and act decisively to treat our city's horrible affliction. Let's get more officers on the street, do a better job training and equipping our police force, and bring more jobs and opportunity to District B.
I hope that you'll stand with me.
Eric Strachan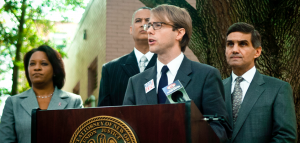 [This advertiser's message is paid political advertising by the Eric Strachan Campaign. UptownMessenger.com does not endorse candidates for election.]