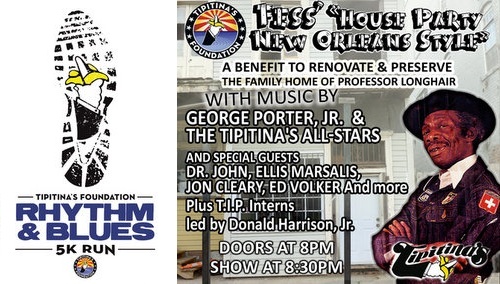 A new 5k run replete with costumes and brass bands will raise money Saturday afternoon to support local high school music programs, and an array of legendary New Orleans musicians will participate in a benefit concert afterward to preserve the family home of Professor Longhair — all presented by the Tipitina's Foundation.
Eric Paulsen and our partners at WWL-TV took at detailed look at Fess' legacy and the effort to restore his home:
The full news release for the two events follows:
Tipitina's Foundation Presents
The 1st Annual "Rhythm and Blues 5K Run" and
Fess' House Party "New Orleans Style":
A Benefit to Renovate & Preserve the Family Home of Professor Longhair
When:               Saturday, September 29, 2012
Where:              At Tipitina's Uptown, 501 Napoleon Ave., New Orleans
Time:                                                    5K Race begins at 5:00 p.m. with a post-race party afterwards
                                                            Doors Open at  8 p.m. and benefit concert will begin at 8:30 p.m.
The Tipitina's Foundation, in partnership with the New Orleans Track Club, is proud to announce the 1st Annual "Rhythm & Blues 5k Run" on Saturday, September 29 at 5:00 p.m. Participants will take off from Tipitina's (corner of Napoleon and Tchoupitoulas) and will run to the beat of New Orleans high school marching bands playing instruments donated by Tipitina's Foundation along the route, and end the event with food and refreshments at a post-race party on the neutral ground in front of Tipitina's. Costumes of famous musicians and musical groups are encouraged and awards will be given for the best costumes. Proceeds from the 5K Run will go toward providing New Orleans area high school marching band programs with uniforms, particularly the standard shoes that are required to march.  Links for registration and more information will be available at www.runNOTC.org and www.tipitinasfoundation.org
With generous support from The United Way and Project Homecoming, the Tipitina's Foundation is also hosting a benefit concert after the race. 100% of the proceeds will go towards renovating and preserving the family home of Professor Longhair on Terpsichore Street in New Orleans. There are plans in place to accommodate the daughter and grandson, who is also a musician, of Professor Longhair on the property.  In conjunction with the wishes of the family, there may also be a portion of the existing structure to be renovated and, eventually, open as a Museum dedicated to the artist's memory.
Tipitina's was originally founded by a group of music enthusiasts called "The Fabulous Fo-teen," as a place for their friend and New Orleans piano player Professor Longhair to perform.  The venue is named after one of his songs, "Tipitina," and between the bust statue of the artist at the entrance of the building and the large mural above the stage, the club pays homage, in loving memory of "Fess", as he was called by his friends.  "There are very few people and places that are as inextricably linked as Professor Longhair and Tipitina's – spiritually, artistically, emotionally, and historically – and we just felt like it would be a missed golden opportunity not to preserve his home," says Tipitina's owner and Tipitina's Foundation co-founder Mary von Kurnatowski.
The bands will play a variety of Professor Longhair songs, as well as other New Orleans style classic hits. George Porter, Jr. will act as musical director and coordinator of the house band for the night, the Tipitina's All-Stars.  Very special guests include Dr. John, Ellis Marsalis, Ed Volker and more. The T.I.P. Interns (a Tipitina's Foundation funded program), led by Donald Harrison, Jr., will open the show.  General Admission Tickets are $35 and VIP Tickets are $80. Tickets are available at www.tipitinas.com  and more information on the Fess House Renovation project is available at    www.tipitinasfoundation.org.