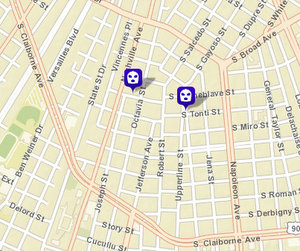 An armed robbery and a carjacking were reported three blocks away from one another in a 10-minute time span Thursday night in Broadmoor, according to initial police reports.
In the first case, reported at 8:17 p.m., a man was getting something out of his vehicle in the 5500 block of South Rocheblave when he was approached by an armed robber who demanded his keys and cell phone, the report states.
The second case was reported at 8:27 p.m., when a woman parking her car in the 3700 block of Cadiz was approached by two armed men who demanded her keys, police said.
Investigators believe the two robberies were committed by the same suspects, said NOPD Second District Commander Paul Noel. A rash of carjacking attempts were also reported in a similar area in early May, but Noel said Thursday's attacks do not appear to be related to any earlier set.