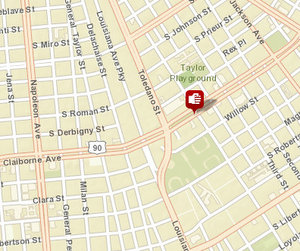 In what police are describing as a possible over-reaction to recent robberies at the McDonald's on South Claiborne, an employee there is wanted on an assault charge after he chased a would-be customer away from the store with a gun, authorities said.
"I understand that people at McDonald's may be a little on-guard," said Lt. Frank Young of the NOPD Sixth District investigative unit. "We tried very hard to see things through the eyes of the employee, but the facts just didn't add up."
Around 9:45 p.m. Friday, a man walked up to the drive-through window at the McDonald's and attempted to place an order, but because the restaurant does not serve pedestrians, he was refused service, Young said. The customer became angry and walked away, but an employee, 25-year-old Aaron Hargrove, believed the dispute may have actually been a setup for an armed robbery, and chased after the customer as he was walking away, Young said.
Hargrove drew a handgun and pointed it at the customer, and the customer then called police, Young said. After reviewing video of the incident, investigators decided to charge Hargrove with aggravated assault.
"He tried to paint it as a defensive issue, but he really went on the offensive," Young said. "He chased after the guy as he was walking away."
Early last Wednesday morning, a woman waiting in the drive-through line at McDonald's was robbed at gunpoint, and the next day, customers in the drive-through line were mugged again under very similar circumstances, police have said. Sixth District investigators then set up a stakeout, but the robber did not return afterward, Young said. There was video of the incident, but only clear enough to confirm that the incidents happened — not to help with identifying the suspect, Young said.
The only armed robbery reported Uptown since then was on Sunday afternoon around 3 p.m., when a man on his porch in the 3200 block of Louisiana Avenue Parkway was robbed of his wallet and phone at gunpoint by two men, according to police records. Though the case was nearby, it does not appear to be related to the McDonald's cases, Young said.
Likewise, there is no indication that the customer chased down by the McDonald's employee had anything to do with the robberies, Young said. For one thing, the original armed robber was targeting customers, not the store itself, Young said. Second, it would be unlikely for an armed robber to call the police and put himself at the center of an investigation, Young said.
Jail records indicate that Hargrove has not yet been arrested.