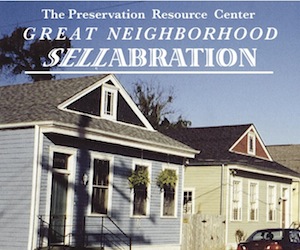 The Great Neighborhood Sellabration is an annual homebuyer fair that promotes homeownership in historic New Orleans neighborhoods by providing prospective homebuyers with the tools they need to find, purchase, and renovate a historic home. Unlike other homebuyer fairs, the Great Neighborhood Sellabration focuses on the historic neighborhoods that make New Orleans unique.
Residents of New Orleans' historic neighborhoods will be available to answer questions about life in their neighborhoods so that homebuyers can make the most informed decision possible. Realtors, lenders, and contractors will also be available to answer questions and provide information. Each event attendee will receive a resource booklet on buying and renovating in New Orleans.
WHEN: Saturday, September 15, 2012, from 9 a.m. to 2 p.m.
Parade of Neighborhoods – 9:30 a.m.
Purchase Readiness and Mortgage Basics – 10:45 a.m.
Financial Incentives for Purchasing a Home – 12:00 p.m.
Selecting and Working with a Contractor – 12:45 p.m.
WHERE: Preservation Resource Center, 923 Tchoupitoulas Street, New Orleans, LA 70130
HOW: Free and open to the public. Call 504-581-7032 or visit prcno.org for more information.