Article by Craig Giesecke, for UptownMessenger.com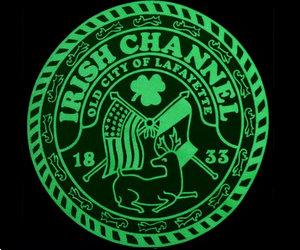 The Irish Channel Neighborhood Association wants a lot more information before deciding whether to recommend establishment of private security patrols throughout the neighborhood.
Thursday night's meeting at the Irish Channel Christian Fellowship building resulted in agreement to establish a committee to seek information and create a list of pros and cons before doing an informal poll of residents. At issue is whether enough Irish Channel residents are willing to bear the cost of patrols on their property tax bills to set up regular, around-the-clock private patrol services similar to those in the adjacent Garden District.
The exact cost remains unclear, as does the exact area to be patrolled and what services would be provided. It's the committee's job to set up proposed parameters, or at least get a sense of what final details might be. For the sake of the meeting, discussion focused on an area bounded by Magazine St., Jackson Ave., Louisiana Ave. and the Mississippi River. Establishment of those boundaries, if any, would only be part of the Byzantine process of getting legislative approval for a new taxing district, approval of residents of the targeted area and, ultimately, City Council authorization before the first cruiser could roll.
The process took roughly 18 months on the other side of Magazine St., according to Shelley Landrieu of the Garden District Association and Garden District Security District. The Garden District set up its own private patrol operation in 1998. Landrieu attended the Irish Channel meeting as an adviser, along with New Orleans Private Patrol Business Development chief Vivian J. Thompson and NOPP Operations Manager Stanley L. Clement.
The Irish Channel would probably need two cruisers operating 24 hours a day to be effective and make residents feel safe, Thompson told the audience of about 40 people.
"I don't think you're going to see happy residents" unless that level of service is provided, Thompson said.
The Garden District Security District currently has three cruisers operating 24 hours a day, every day. Landrieu noted Garden District residents have voted to renew their patrols since their protection district was established.
Services in the new district would be similar, Thompson said, such as escorting residents to their door, detaining suspects for police if needed and providing additional eyes for the NOPD.
"The police are reactive, while we are proactive," Thompson said.
Another issue to be decided is how such an operation would be set up and funded. The first step, according to Landrieu, would be to craft a bill for legislative approval, setting up a new taxing district to fund the patrols. The cost could be added to property tax bills as millage or as an annual fee for service. Such a bill would then have to be approved by voters in the proposed district. This raised questions about residents of multi-unit properties voting in favor of levying fees the property owner would be obligated to pay.
"We obviously have a lot of questions," said ICNA president Kara Morgan.
The committee established by the board — Mario Zervigon, Chanel Murray and Trey Nobles, with Ed McGinnis serving in an advisory capacity — is charged with outlining a proposed security area, gathering an idea of proposed fees and assembling similar information. The idea is to then come up with a list of pros and cons to distribute to Irish Channel residents to see if there is enough interest to pursue the matter further. No determination was made on just how the residents would be polled, but there was general agreement a simple email survey would not be adequate.
Attendees at the ICNA meeting included announced City Council District B candidates Dana Kaplan, who is a member of the association board, and Eric Strachan.