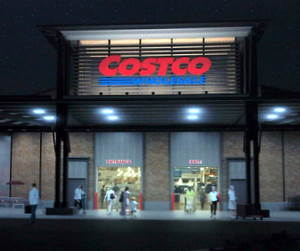 Costco Wholesale will be reimbursed with $3.3 million of the sales taxes the new store collects over its first five years to help defray the costs of elevating the South Carrollton Avenue site to meet FEMA requirements, and the city will also make a number of improvements to the streets around the store, the City Council decided unanimously Thursday afternoon.
According to the terms of the deal, an estimated 40 percent of the sales-tax revenue generated by the store in its first five years will be set aside for that reimbursement, for five yearly payments of $660,000 each, according to city officials during a discussion of the package at Thursday's City Council meeting and the report on the project. The city will also make a number of improvements to the streets around the site, such as street grading, curbing, sidewalk repairs, a new traffic signal and a new turn lane on South Carrollton, costing up to about $2.5 million, according to officials and reports.
Costco is expected to generate $9.5 million in sales taxes — in addition to $1.7 million in property taxes — over its first five years, so the city will still be receiving well more in tax revenue from Costco's arrival than it will returning to the company, said District A City Councilwoman Susan Guidry.
"I think it's a very, very rational basis for the tax incentives," Guidry said. "We'll be in the 'plus' column from day one, and then beginning with year six, we'll be in the multiple-plus column."
The move drew no debate or dissension from the council. City Councilwoman Stacy Head said simply that she couldn't wait to see the store open, and Jackie Clarkson said the deal shows the direction of economic development in New Orleans.
"This is typical of where we're going in the future with this city," Clarkson said. "Costco, you're the role model now."
Interim District B City Councilwoman Diana Bajoie said she is excited about the proposal as well, but asked the city to begin studying ways to alleviate the traffic that's already increasing around Xavier University. She also took joking issue with Guidry's suggestion that Costco has "the best hot dogs in the country."
"I don't know," Bajoie shot back. "I have Dat Dog in my district now."
Without discussing the deal itself, the Rev. Patrick Keen of Bethlehem Lutheran Church in Central City asked the council how it could ensure that Costco will follow through on its pledge to hire local residents.
"We have had those promises from developers before," Keen said.
Guidry and Quirk said that Costco plans job fairs for locals, and that their officers are working to let neighborhoods know what job skills will be required, so that residents can begin training ahead of time.
"From the very beginning, they have been very tuned in to hiring from the immediate neighborhoods," Guidry said, noting that she has never gotten such strong assurances from any other developer. "Costco has a reputation of taking care of its employees, and excellent corporate partner in the communities that it's in. I think we have a history here we can rely on."
To watch the roughly 20-minute Costco discussion, see the video below: