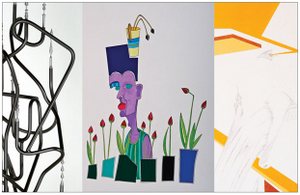 Artists Caroline Hill, Jonathan Meyers and Sam Provenza will all be featured in the new "epigrammatic" exhibition opening tonight at Du Mois gallery (4921 Freret) with a reception from 5 to 8 p.m. The show runs through May 6.
More details, via emailed invitation from Du Mois:
JOIN US Saturday eve when we open "epigrammatic," a group of distinctive, pointed works employing direction, angle, color, and form in three mediums.

Caroline Hill returns with a collection of mixed media born from colored scraps and fleshed out in colored pen and ink. Her subjects ebb between celebrity and the mundane but with a vibrating energy that grab and delight.

Jonathan Meyers also returns with a bold, new series of silverpoints on a grand scale accented in broken arcs and turns bordering on glacial or tectonic referencing.

And introducing Sam Provenza and his point studies, 3D metal compositions that dip, swoop, bend, and converge (and sometimes not). The dynamic in energy varies from piece to piece, making the series an engaging premier.