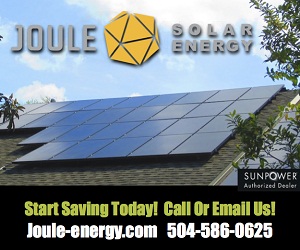 Spring feels like it's been upon us for a few months, but technically it has only just started. To kick off this wonderful time of the year, Joule Solar Energy is teaming up with City Park and the LSU Agricultural Center for the annual City Park Spring Garden Show this weekend, April 14-15th. The event features guest speakers and a green fair with product exhibits and vendors.
Keep reading for more details about the show, and about the latest trends in solar engineering, solar gardening, and solar canopies for your home or business!
Guest speakers for the show include: "Louisiana Super Plants"- Dan Gill, "Louisiana Wildflowers" – Dr. Charles Allen, "Compost"- Amber Dawn, "Beginning Beekeeping" – Russell Harris, "Identification and Control of Common Flowerbed Weed Problems" – Dr. Ron Strahan, and "Butterfly Gardening"- Kathy McCrocklin.
Joule Solar Energy, a local New Orleans B-Corporation, will be exhibiting solar products and offering free energy consultations for gardeners, homeowners and green living enthusiasts. Keith Gibson, Marketing Manager at Joule, says, "We participate in a lot of local events around the state and always enjoy participating in events at City Park. They (CIty Park) take great strides to bring in events that provide tools and knowledge to help promote and beautify New Orleans while being environmentally friendly." Gibson invites everyone attending the show to stop by Joule Solar Energy's booth and inquire about the latest trends in solar gardening and solar canopies for your home or business.
Details:
April 14-15 Hours: 10:00 AM to 5:00 PM
Adults – $8,
Children ages 5-12 – $4,
Children under 5 and Friends of City Park free.
This event is sponsored by the LSU AgCenter in cooperation with the Metro Area Horticulture Foundation and the New Orleans Botanical Garden. Joule Solar Energy is located at 701 S. Alexander Street in New Orleans, and can be reached on their website at joule-energy.com or by phone at 504-586-0625.